California has been hit by a final round of storms, bringing more rain and snow to a state already reeling from destructive flooding, heavy snowfall and at least 19 deaths.
Storms have battered the state in recent weeks, flooding communities and forcing evacuations. The scale of the damage is still not fully clear.
Abouit 25 million people in California were under flood watch at the weekend.
However, there are hopes that the weather should improve this week.
The Sacramento office of the National Weather Service (NWS) said that "periods of moderate to heavy snow will continue into Monday".
One to three feet (30 to 91cm) of new snow fell in parts of California's Sierra Nevada range over the weekend.
More than 11,000 homes in the state remained without power on Sunday, according to poweroutage.us.
US President Joe Biden declared a major disaster in California – the country's most populous state – on Saturday night.
But there is hope on the horizon, with the NWS saying that drier weather should arrive on Tuesday.
Governor Gavin Newsom urged Californians to remain vigilant and exercise "common sense over the course of the next 24 to 48 hours".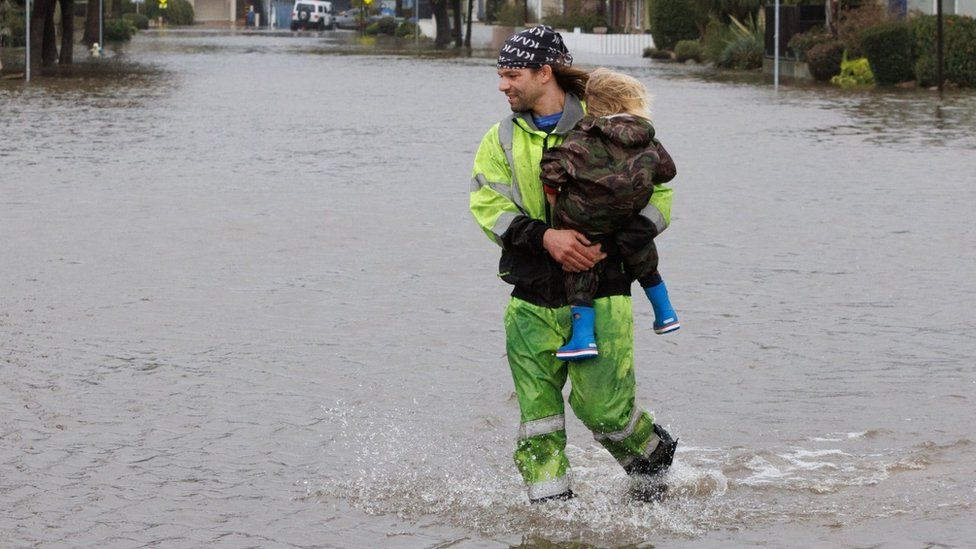 The scale of the damage caused by a once-in-a-generation deadly "parade of storms" has started becoming clear in California.
Between 26 December and 9 January, parts of California saw up to six times more rain than usual, according to the NWS.
Last week, some areas of Santa Barbara received more than 410mm (16in) of rain in two days.
Storms have lashed coastal cities such as Santa Cruz and San Francisco, opening sinkholes in roads and cutting power to thousands of homes.
The rain has raised the water level in rivers across the state. Many low-lying areas along the Salinas River Valley were evacuated.