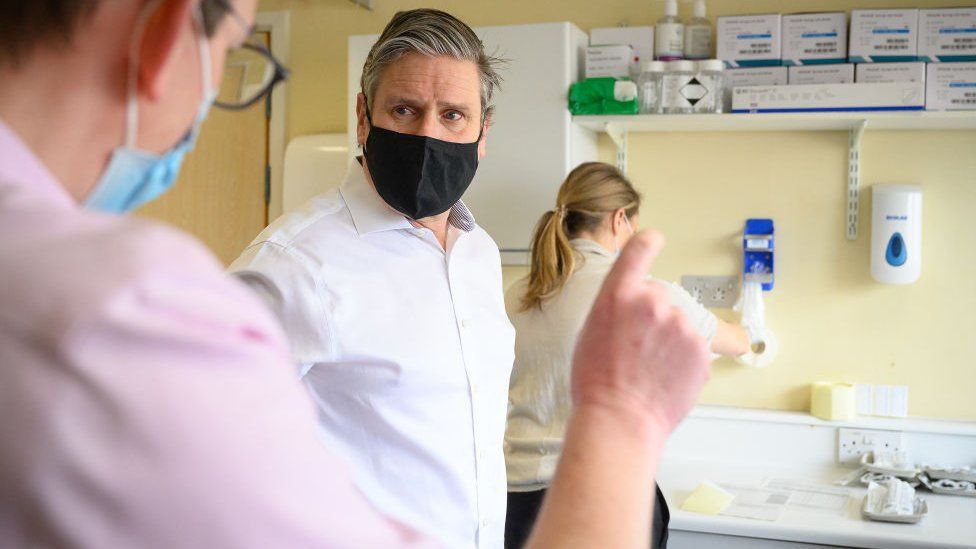 Labour leader Sir Keir Starmer has said the NHS must "reform" or "die" as he outlined his plans for it.
Writing in the Sunday Telegraph, he argued the idea the NHS is still the envy of the world is "plainly wrong" and said the situation for patients was "intolerable and dangerous".
His NHS vision includes allowing patients to make self-referrals.
This is the first time Sir Keir has publicly backed reforms suggested by shadow health secretary Wes Streeting.
The Labour leader also said his party would double the number of graduating doctors and district nurses, increase training placements for nurses and midwives, and gradually turn family doctors into direct employees of the health service.
Sir Keir wrote that the country's primary care model – which includes GP services – "isn't working".
"It's time for us to think about a new, sustainable system, one that allows GPs to focus on caring for patients rather than the admin that comes with effectively running a small business," he said.
"We also need to be ruthless with the bureaucratic nonsense you encounter every day in the health service.
"Why can't people with persistent back problems self-refer to physio?"
The Labour leader – who is appearing on the BBC's Laura Kuenssberg on Sunday later – says he is prepared to do the "hard yards" and tell the "hard truths" to give patients the services they need.
Sir Keir adds: "Ambulances queue outside A&E with stroke victims left in the back; cancer patients wait to see specialists; people are stuck on hold at 8am every morning, desperate for a doctor's appointment.
"The idea that the service is still "the envy of the world" is plainly wrong."
Attempts to reform the NHS have proved politically contentious, especially for Labour. Many Labour MPs are ideologically opposed to private-sector involvement in the health service.
But now Sir Keir has appeared to take a hit at Labour's left and the party's previous leadership, arguing that the NHS should not be "off-limits [or] treated as a shrine rather than a service".
Labour's proposals come against a backdrop of winter pressures on the health service and strikes by nurses and ambulance workers.
Last week, figures showed the proportion of patients seen within four hours in England's A&Es fell to a record low of 65% in December.
Prime Minister Rishi Sunak said he hopes to end the deadlock with unions, while pushing controversial legislation that would impose minimum service levels on strike days for workers in health, education, transport and several other sectors.
You can watch watch Sir Keir Starmer on Sunday with Laura Kuenssberg live on BBC One and BBC iPlayer from 09:00