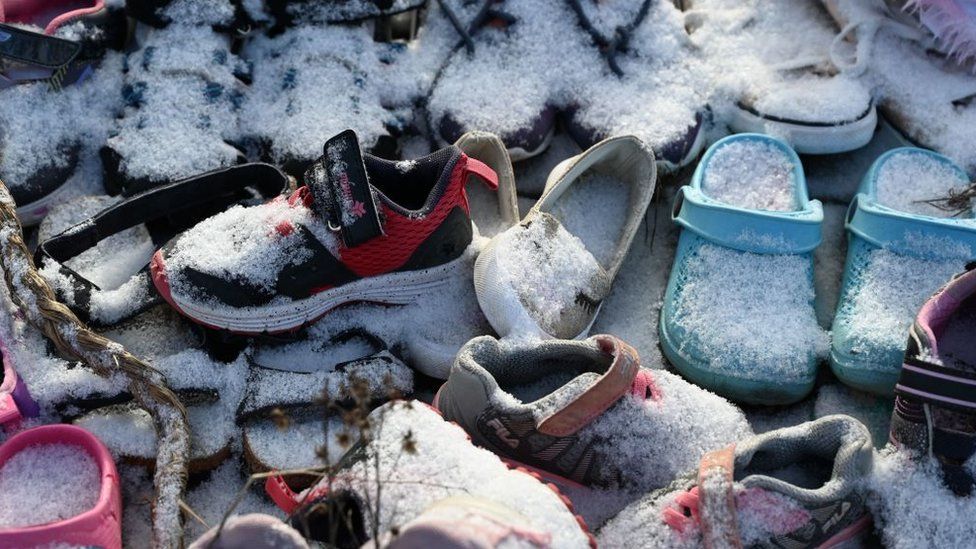 An indigenous nation in Canada said it has discovered evidence of possible unmarked graves on the grounds of a former residential school.
Star Blanket Cree Nation said a ground-penetrating radar had revealed the jawbone fragment of a small child and more than 2,000 "areas of interest".
Those are not yet confirmed to be evidence of human remains.
But the fragment "is physical proof of an unmarked grave", project lead Sheldon Poitras said on Thursday.
The discovery from the Star Blanket Cree Nation in Saskatchewan follows a wave of investigations into possible unmarked graves at the sites of former residential schools in Canada. Ground searches starting in the spring of 2021 have uncovered evidence of more than 1,100 such graves across the country.
Areas for this most recent search were identified after testimonials from elders and former students of the former Qu'Appelle Indian Residential School.
"It was unthinkable. It was profound. It was sad. It was hurtful," Star Blanket Chief Michael Starr said on Thursday of the discovery. "It made us very angry what had happened to our young people here."
These government-funded compulsory boarding schools were part of a policy meant to assimilate indigenous children and destroy indigenous cultures and languages. Some 150,000 First Nations, Métis and Inuit children were taken from their families placed in these schools from the 19th Century into the 1970s.
Survivors had long testified about children who died at the schools, where students were often housed in poorly built, poorly heated, and unsanitary facilities.
The landmark Truth and Reconciliation Commission (TRC) report, released in 2015, identified 3,200 confirmed deaths of children at residential schools but the number is believed to be higher. Not all deaths were properly recorded and the bodies of some of the children were never sent home. In some cases, grave markers were lost to time or removed.
Investigators said they were considering options, including DNA testing, to confirm the findings of the radar at Qu'Appelle Indian Residential School. Some of the anomalies picked up by the search could be innocuous, things like stones or pieces of wood.
The jawbone was analysed by the Saskatchewan Coroners Services, who said it belonged to a child aged four to six and is approximately 125 years old – around the time the school was founded.
The Qu'Appelle Indian Residential School, in southern Saskatchewan, was one of the first residential schools to open in Canada and was run by the Roman Catholic Church from 1884 to 1973. It was eventually closed in 1998.
"My parents never hit me, my grandparents," he wrote. Before going to school "I didn't know what it meant to be hit, physically abused".
The Indian Residential Schools Resolution Health Support Program has a hotline to help residential school survivors and their relatives suffering trauma invoked by the recall of past abuse. The number is 1-866-925-4419.