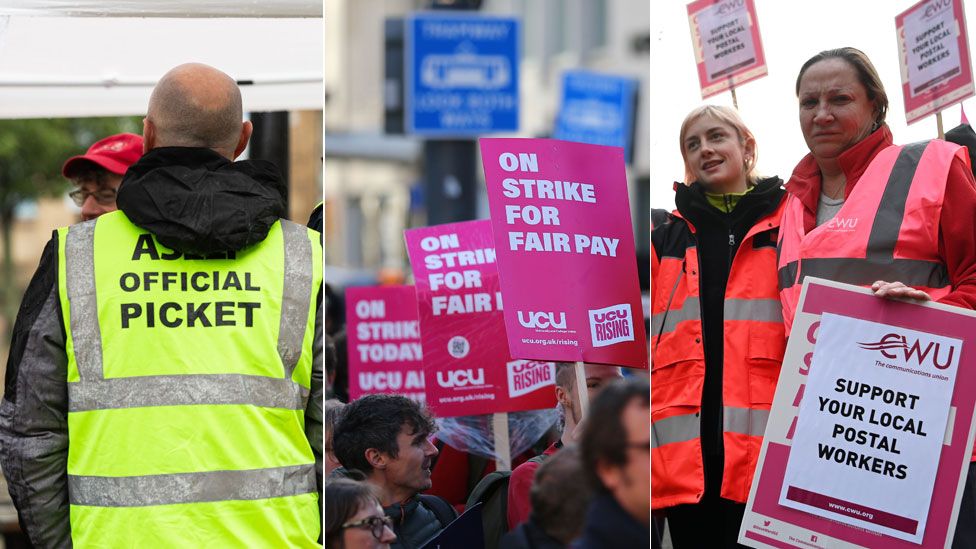 "A grassroots revolt of working people."
That's what's coming, according to one union leader who told me a wave of strikes is on the way, driven by "real people in real pain" thanks to the pressures on the economy.
Skirmishes and strife between the government and public sector aren't exactly unusual. But the list of disputes is staggering when it's added all together.
And unrest is affecting the private sector too. Currently taking action or planning to are:
Train drivers and railway staff
Nurses
College lecturers
Royal Mail workers
Airline ground handlers
Some Amazon workers
Staff at brewers Greene King
Some dock workers
Teachers in Scotland
Oil workers
About 100,000 civil servants
Ambulance workers, junior doctors, firefighters and teachers in England are just some of those deciding right now whether to protest too.
The scale of possible unrest is bigger than anything we've seen for more than a decade – perhaps since 2011, when there was a huge bust-up between the government and public sector over pensions.
But the sheer number of disputes is creating comparisons to the infamous "winter of discontent" of 1978-9.
If you're young enough not to remember that time there were months of widespread walkouts bringing misery in freezing temperatures, rubbish in the streets and gruesomely, even a gravediggers' strike.
There was a general sense of chaos that turned to political disaster for a Labour government that was trying to hold pay deals down to help control soaring inflation.
It paved the way for Margaret Thatcher to capture No 10 and rein in the unions.
Those were the days of mass union membership: they had more people and much more power. What might happen in the next few months would be an echo of that extraordinary period but not an exact replica.
It's the same fundamental issue though – the government is short of cash and trying to hold down pay to control spiking inflation.
But workers feel they can't make ends meet without bigger pay rises and are determined to protest.

On the show this Sunday are Transport Secretary Mark Harper and Labour's shadow levelling-up secretary Lisa Nandy
On the panel is mathematician Hannah Fry, former Tory Party chair Sir Jake Berry and outgoing TUC chief Frances O'Grady
Watch on BBC One and iPlayer from 09:00 this Sunday, 27 November
Get the latest news lines, best quotes and video clips live here on the BBC News website and on Twitter @BBCPolitics

The numbers may be smaller than the massed ranks of union members of the 1970s, but for the 21st Century, they are significant.
More than 1.5 million workers will be balloted for strike action this winter in the public sector alone.
And for many of them action now comes after years of pay restraint. The TUC estimates – for example – that nurses are earning £5,000 a year less in real terms than in 2010.
Ministers are acutely aware that the strikes to come could spell big trouble for them too.
That's why at this week's cabinet meeting, the home, transport and health secretaries all raised the disputes they are trying to manage.
Oliver Dowden, Cabinet Office minister and close ally of the PM, is trying to map out all the different rows. It's also his role to make sure contingency plans are in place.
The government has already introduced the idea of tightening up the law around industrial action. And I'm told the possibility of toughening that bill still further could be used as leverage over the unions in the weeks to come.
While each dispute is different, the sheer scale and range of the strikes means it will be impossible for the public somehow not to notice.
Right now, public opinion varies significantly according to the group that's going on strike.
Sympathy is high for nurses but there's less understanding for railway workers and even less for council staff, according to recent polling.
But if the sheer number of strikes creates a sense of chaos the government could be the focus of the public's irritation.
Inside No 10 there is a determination that giving in on pay is just impossible given what's happening in the economy.
There's a handy, if predictable, political attack to make on Labour which receives some of its funding from the unions.
But widespread unrest could pummel the Conservatives' dire polling even further and build on the sense that nothing can get done.
Imagine this: You miss an important letter because of a mail strike telling you that your granny's scan at hospital is delayed again because of the nurses' action.
Then there isn't an ambulance available to take her when the appointment eventually comes.
After a hard few weeks – when the kids have been climbing the walls at home because their teachers are on strike – the flight to a relatives you saved up for is cancelled because of industrial action.
Catch a train instead? Forget it, the drivers are on strike. And after all that, when you want to have your favourite pint to forget it all – you can't get one, because the brewers walked out too.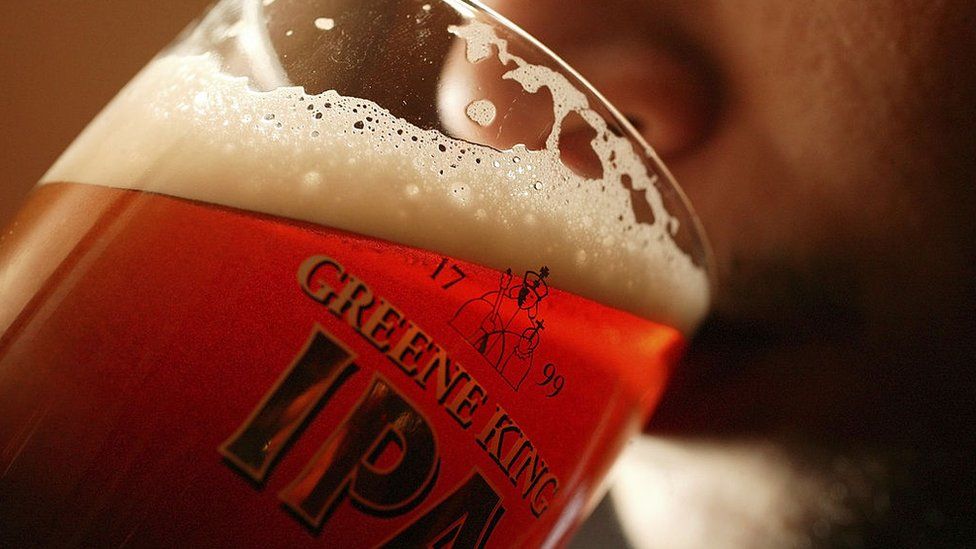 That's a fictional scenario, of course – no one individual is likely to have that much bad luck! And not all of the possible strikes may come to pass. Disputes can be settled.
But the possibility of very serious and sustained industrial action is real – bringing inconvenience for the public, hard decisions and upset for union members, and a winter that could prove very unhappy indeed for the government too.
To please the pedants among you the original phrase "winter of our discontent" comes from the opening line of Shakespeare's Richard III.
It's often quoted without the next line – made glorious summer by this sun of York – which actually suggests happy times have arrived after hardship.
But for Rishi Sunak, as winter bites and strikes arrive, the prospect of improvement feels far away.