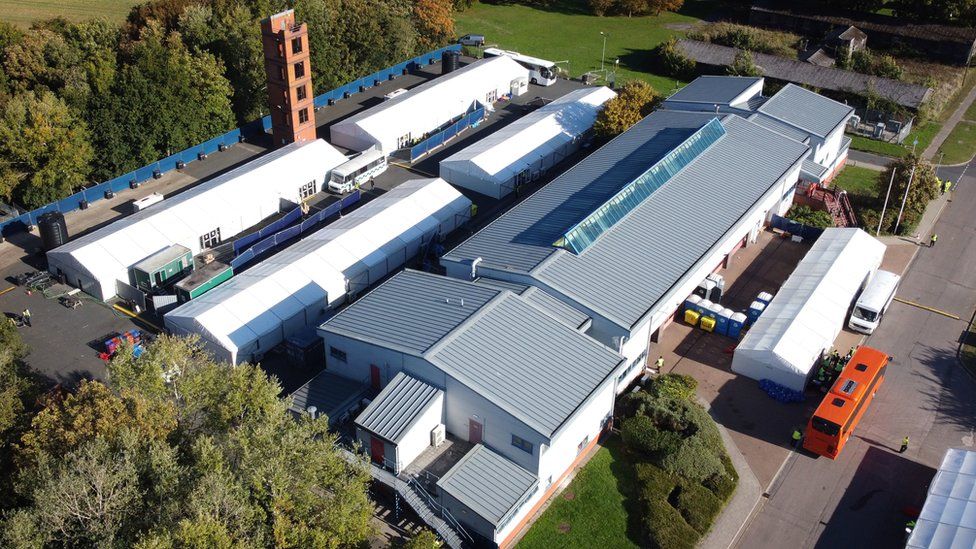 Migrants at the Manston processing centre are to be vaccinated against diphtheria after dozens of cases were confirmed in England.
The UK Health Security Agency (UKHSA) said it followed a spike in infections.
The agency said 39 diphtheria cases had been identified in asylum seekers in England this year up to 10 November.
On 1 November, immigration minister Robert Jenrick said there had been four cases at the Kent centre but infection had occurred prior to arrival.
Dr Gayatri Amirthalingam, the UKHSA's deputy director of public health programmes, confirmed work was ongoing with the Home Office to roll out vaccines and antibiotics at Manston.
It comes as the figure for cross-Channel migrant arrivals nears 40,000 this year. A provisional total calculated by the Press Association stood at 39,913.
The UKHSA has warned that accommodation settings should be considered "high-risk for infectious diseases".
Diphtheria is a highly contagious infection that affects the nose and throat and sometimes the skin. It can be serious and sometimes fatal, according to the NHS website.
"The UKHSA has been working closely with the Home Office at the Manston reception centre where there have been a number of cases of diphtheria and other infections," Dr Amirthalingam said.
"We recommend that diphtheria vaccination and antibiotics are offered to people at the centre and all those who have moved on recently.
"This is currently being operationalised and we are working with the Home Office and the NHS to make this happen."
UKHSA guidance published on Friday said the agency's incident management team had recommended "mass antibiotic prophylaxis and mass vaccination", due to a "high prevalence" of toxigenic diphtheria infection.
Treatment was recommended for asylum seekers arriving at reception centres after 31 October and before 12 December, including those sent to hotels.
A national briefing was also sent to NHS staff to highlight "the importance of early diagnosis".
The Home Office has not yet commented.
Related Internet Links
The BBC is not responsible for the content of external sites.