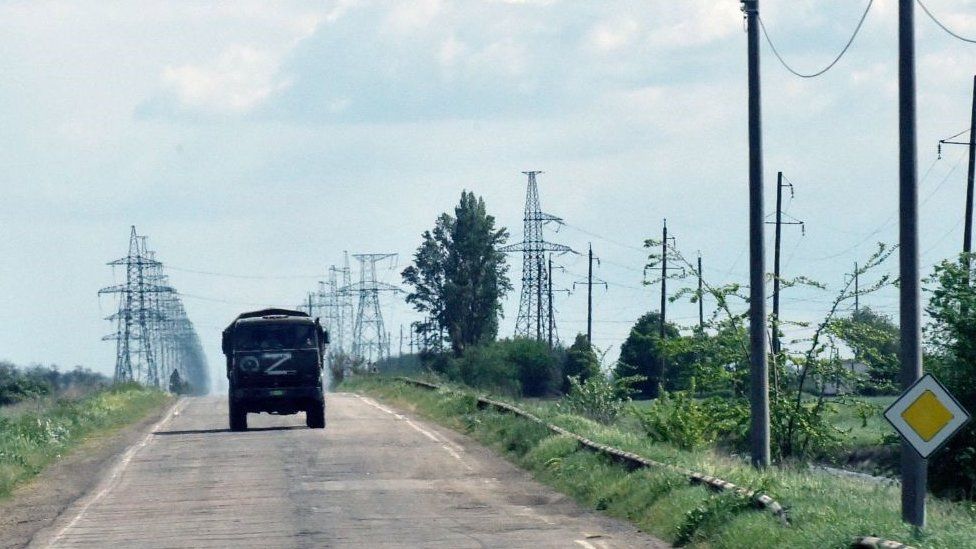 When the Russians drove into Kherson in March, virtually unopposed, they cannot have imagined they would be getting ready to leave a mere eight months later.
But by the time Moscow orchestrated its much delayed "referendum" in early September, paving the way for Kherson and three other regions of Ukraine to become part of Russia, the tide was already turning.
From late July onwards, Ukraine's military began the assiduous, pinpoint business of cutting Russian forces on the "right" (western) bank of the Dnipro River off from their supply lines to the south and the east.
As many as 20,000 Russian troops occupying Kherson and the flat, agricultural land to the north, were increasingly isolated.
The circumstances surrounding the explosion remain unclear. Russia accused Ukraine's intelligence services of using a truck bomb.
But the effect was immediate – Russia's most direct supply route to Kherson was virtually severed.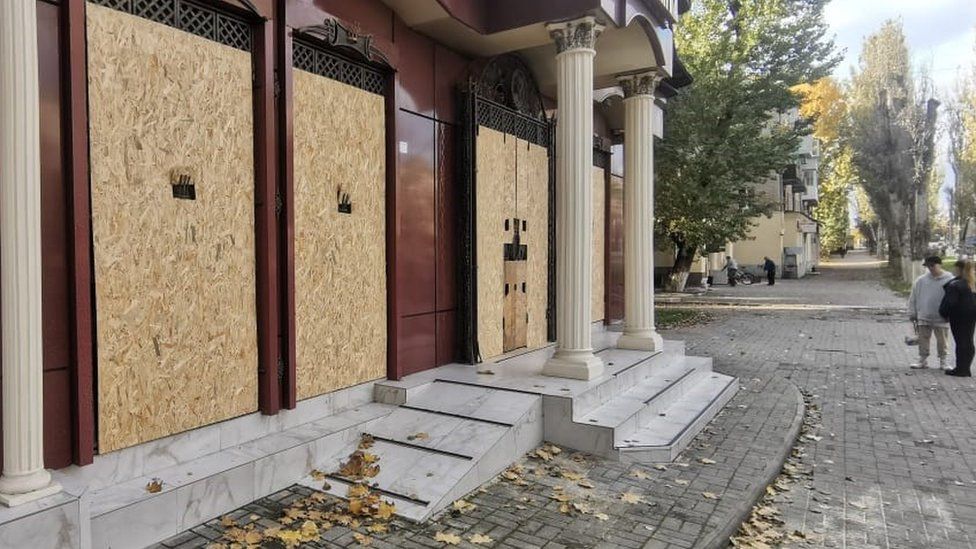 By late October, Ukrainians loyal to Kyiv who remained in the city felt change was coming.
"Freedom is in the air," one Ukrainian messaged me on 23 October, asking to be identified only as James.
But there was a mounting sense of dread too. If Russian forces were compelled to withdraw, what would they do as they left?
Photos I received a few days later showed shops boarded up. Kherson was starting to look like a city anticipating a hurricane.
"We've been through all rounds of fear already," James told me. "So let the tsunami come."
By the end of October, the sounds of shelling were getting closer and the streets were increasingly deserted.
With Russian-appointed officials starting to evacuate civilians, the city's liberation seemed to be getting closer.
"People started speaking Ukrainian," James messaged me. "They were afraid to speak to each other before."
And, in another sign of impending change, the value of the rouble, which the Russian authorities had tried to impose on Kherson, started to tumble.
"We went to a milk shop and asked if they accept roubles," James told me on 30 October. "What they said was: 'Roubles? Only on the left bank.'"
With the internet starting to fail, local technicians were busy installing decoders to enable residents to watch Ukrainian TV from nearby Mykolaiv.
"They can have an analogue TV signal, a message from the free world," James said. "This is tremendously symbolic."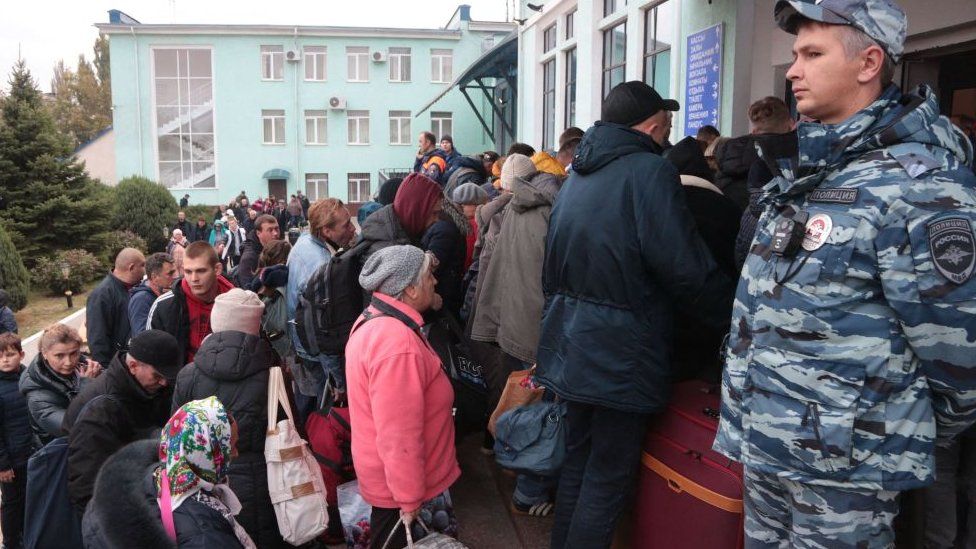 One of the most symbolic – and perhaps telling – moments came when a Russian team arrived at the city's 18th Century Cathedral of St Catherine to remove the bones of Prince Grigory Potemkin, the man responsible for colonising southern Ukraine on behalf of his lover, Catherine the Great.
Days later, Russian trucks pulled up outside the city's Regional Art Museum. Soldiers started to remove pictures, repeating a pattern seen in other Russian-occupied towns, notably Mariupol.
Other looting was going on too, with private cars and tractors being towed away and shops emptied.
Down on the river bank, boats were requisitioned and, in some cases destroyed. Videos circulating on social media even purported to show animals from Kherson's zoo being removed to Crimea.
On the left bank of the Dnipro, satellite imagery emerged, showing lines of recently dug Russian defences stretching for 100 miles along the Dnipro, from above the dam at Nova Kakhovka all the way to the Black Sea.
But amid talk of a Russian trap, Ukrainian officials have remained cautious, a sentiment echoed in the city itself.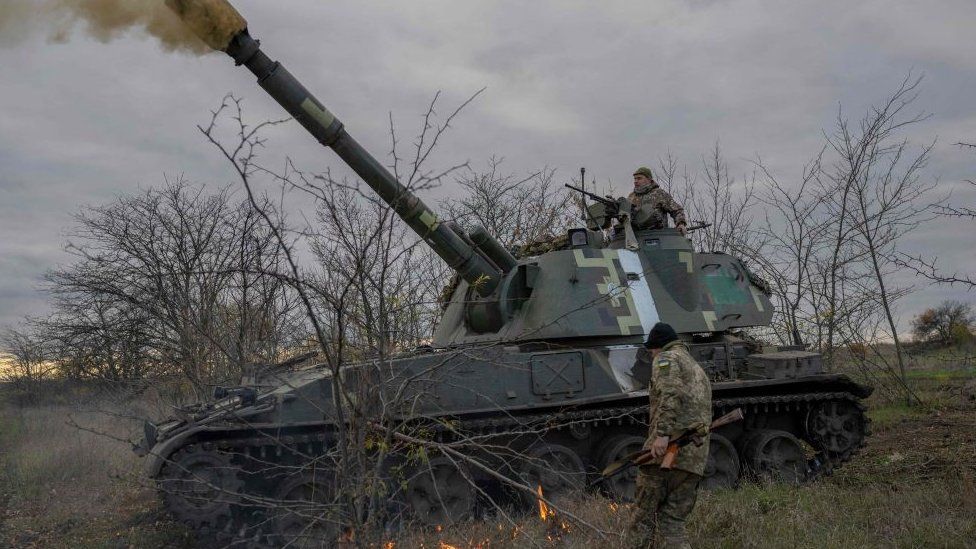 "It's all announcements for now," James said on Wednesday.
Rumours are rife: that Russia is planning to blow up the Nova Kakhovka dam; that Russian troops have donned civilian clothing and are hiding in private homes; or that Russian guns will simply try to level the city from across the Dnipro, after troops finally leave.
Whatever happens, this feels like a critical moment. A city seen as a jewel in the crown of Russia's occupation may be about to change hands.
Given all Moscow's recent setbacks, a retreat across the river seems to make a great deal of military sense. Politically, though, it's another catastrophic moment for Vladimir Putin.
The dream of capturing the Black Sea port of Odesa will recede even further, along with any thought of creating a land bridge all the way from Russia to its allies in Moldova's breakaway region of Transnistria.
The battered city of Mykolaiv will at last enjoy some relief.
Most worryingly for the Kremlin, Russian-occupied Crimea will start to feel more vulnerable.
Bit by bit, Moscow's maximalist ambitions in Ukraine have been thwarted. First at Kyiv, then in the east, and now in the south.
As the year's end approaches, Russian troops still occupy huge swathes of the country. But after shattering losses in Russian men and materiel, this is not where Vladimir Putin thought he would be by the end of 2022.