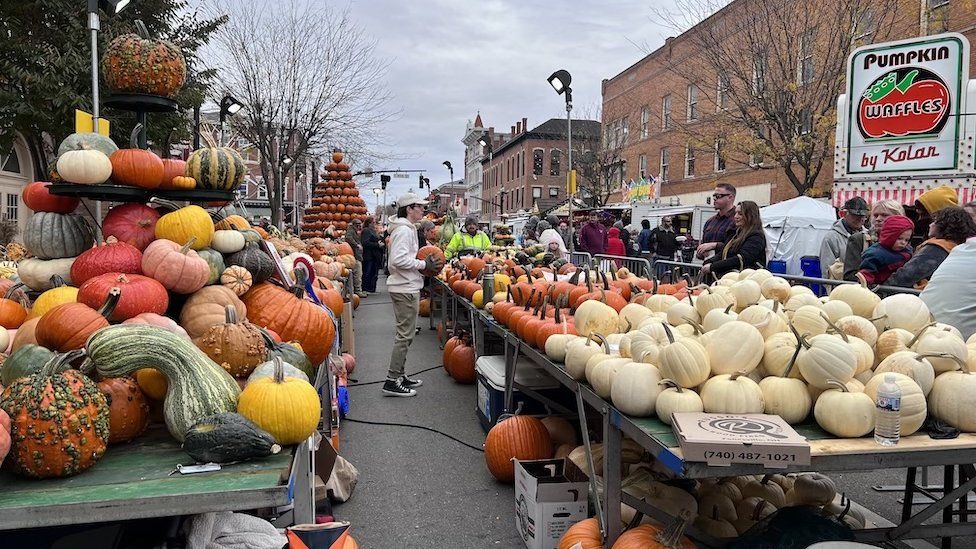 Americans will vote this week in the congressional elections with one big issue on their minds – the faltering economy. And that's good news for one party.
In Circleville, Ohio, nothing kicks off the fall festivities quite like the annual Pumpkin Show. It's been called the "Greatest Free Show on Earth".
This year, the only thing weighing more than the 1800-pound pumpkin on the minds of some residents, and voters, is the cost of living.
Kari Stephens, 50, believes the economy is in "the toilet."
In her view, the current Democratic leadership in Washington "doesn't care about and has forgotten the little people in Ohio." She said the Democrats care about unrelatable things, citing as one example the push towards electric cars that she cannot afford.
Despite record job numbers and reasons for inflation beyond Democrats' control, they have faltered in their messaging on the economy, while Republicans have hammered them, the party in power, continuously on it. Polls show it has worked to the advantage of Republicans.
Ohio used to be a swing state, but it has been moving further to the right in recent years. The state went to former President Trump in 2016 and 2020, partly because of his promise to bring manufacturing jobs back to the US.
Inflation is only adding to difficulties for the Democrats here and nationally. According to an ABC News/IPSOS poll conducted less than three weeks before the election, more Americans trust Republicans over Democrats on both the economy and gas prices.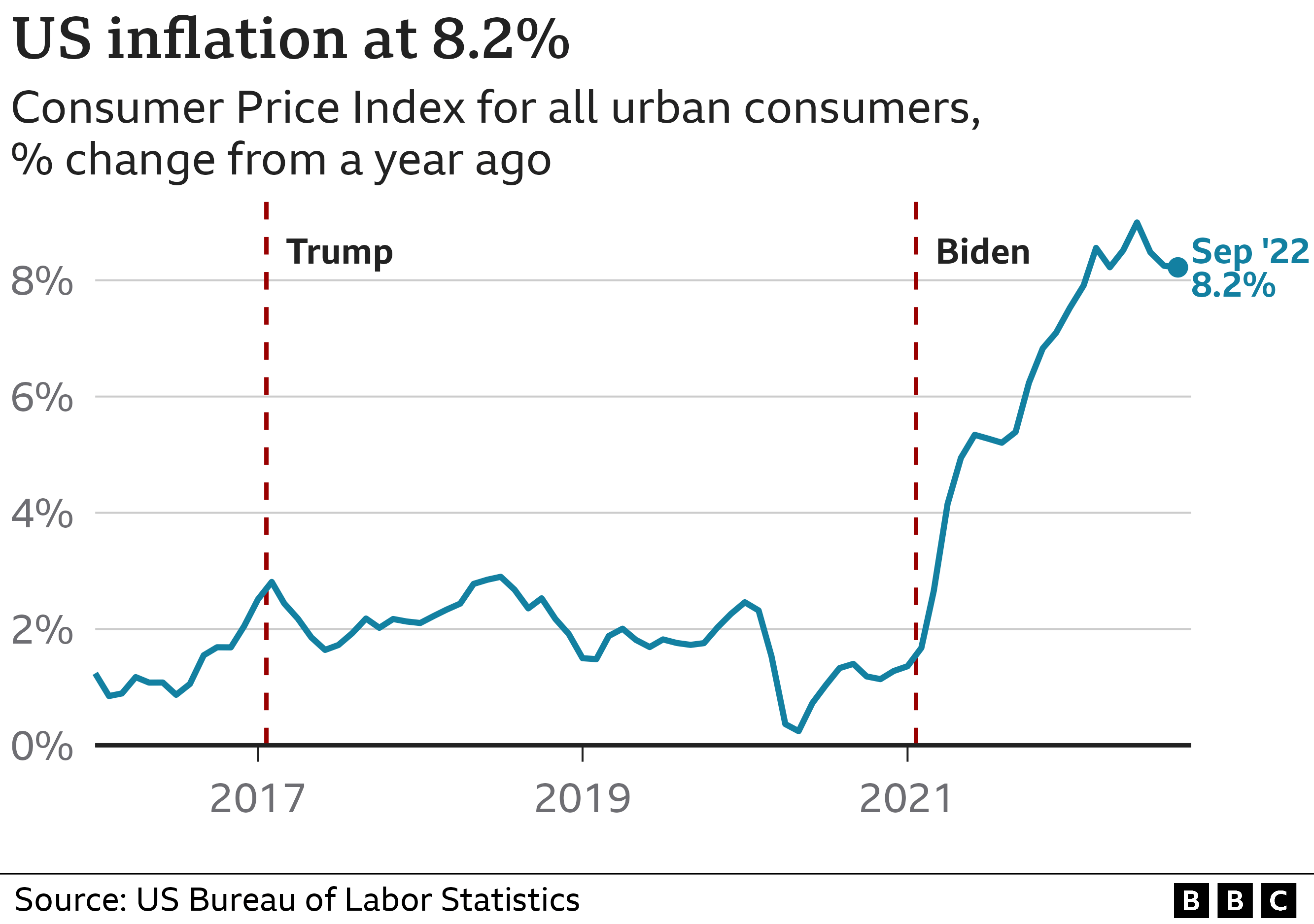 "We care how much eggs are at the grocery store," Ms Stephens told the BBC. "18 eggs, $7.85, that is unaffordable for someone with three kids; even with both of us working it's unaffordable."
She leans conservative, but said she doesn't tend to fill out her ballot solely for one party.
Jerome Phillips, 59, on the other hand, voted for President Joe Biden and the Democrats in 2020. He doesn't know who he will cast his ballot for this time around. Jerome blames former President Donald Trump for the "terrible economy," but says Mr Biden has been "a total disappointment."
"He hasn't done anything in office to help the economy, nothing at all," he said. "Prices are going up, you can't eat. You don't have jobs, people don't want to work because they don't want to pay you, making it hard on everybody."
According to a mid-October survey from the nonpartisan Pew Research Center, inflation was the dominant economic concern for Americans. Almost three quarters of the respondents were worried about the prices for food and consumer goods, closely followed by gasoline and energy and the cost of housing.
Pew's report found that these concerns were widely shared across demographic groups and income categories. While the survey found a slight partisan tilt in answers, still a sizable majority of both Democrats (66%) and Republicans (81%) said they were very concerned about inflation.
The economy on the campaign trail
President Biden has tried touting his blue-collar credentials and selling a vision of building a better America for everyone with an economy that grows from the "bottom up and the middle out".
At a recent Democratic National Committee event, he warned Republicans would cause chaos in the US economy and they were "doubling down on their MAGA trickle-down economics that benefits the very wealthy."
Democrats have defended Mr Biden's record, pointing to the fact that inflation is a global phenomenon and record job recovery amidst the pandemic. The United States economy added 261,000 jobs in October, bringing the total of new jobs since President Biden took office to over 10 million. That's more than what every other president saw during their first 20 months.
But some Democratic candidates have distanced themselves from Mr Biden, whose approval rating is below 50%. Instead, they have tried to highlight what they view as the party's achievements on passing long awaited action on infrastructure, climate, healthcare and student debt.


Nevertheless, Democrats' various "wins" won't be felt by voters for months or years.
Mike Lux, a Democratic strategist who has researched voting trends in America's industrial heartland, said Democrats should have done more, earlier. While he believed candidates such as Tim Ryan in Ohio and John Fetterman in Pennsylvania did a good job explaining how they would address inflation and fight for working people, he said a lot of candidates have been focused solely on the abortion issue.
Meanwhile, Republicans have seized on inflation fears and gas prices to accuse Democrats of spending too much, a frequent talking point, and limiting energy production.
The current surge in gas prices, largely determined by supply and demand, is due to the war in Ukraine. Still, Republicans have blamed Democratic policies and have vowed to open-up oil drilling and pipelines to make America energy independent.
Mr Lux, the Democratic strategist, said that Democrats should have been out talking about inflation and the economy and owning the narrative precisely because it's a tough issue that's dominating the political landscape. "I think avoiding the issue is the worst thing that Democrats can possibly do," he said.
Messaging on inflation is still far more dominant in Republican political ads, according to an analysis by the Wesleyan Media Project. Last month, 32% of pro-Republican party ads were on inflation compared to 8% of pro-Democrat ads. The reverse is true for abortion, with 28% of pro-Democratic ads focused on the issue compared to just 3% of Republican ads.
Gunner Ramer, political director of the anti-Trump GOP group, the Republican Accountability project, said Republicans have spent tens of millions hitting Democrats on the economy and inflation and have found that it is a very effective message.
The problem for Democrats, Mr Ramer explained, is that as with any party in power, the blame would fall on them for any economic troubles voters were facing no matter how much they touted any successes. "Kitchen table issues still matter and Democrats are going to be punished for that," he said.
In the meantime, low income families continue to be hit the hardest by inflation.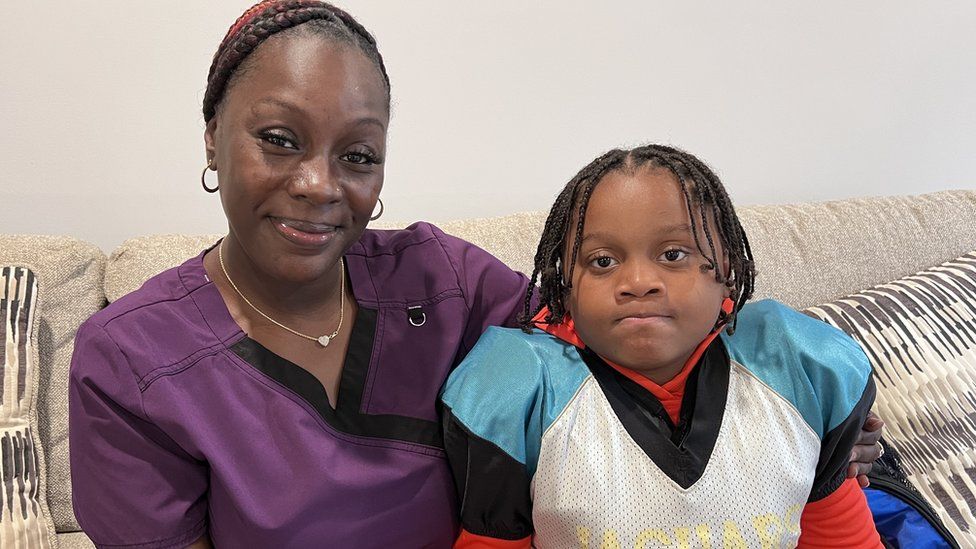 Jameka Humphries, a single mother, was just able to move into a nicer school district for her son Jayden. Despite working three jobs, her purchasing power has been diminished by inflation.
"Without inflation I would feel more confident in the future," she said, "and more confident in making long-term decisions."
She doesn't blame Democrats or Mr Biden for her tough times, but she doesn't give him a ringing endorsement either. "I don't think he does a bad job, and I don't think he's done a good job. He just does the job," she said.
Ms Humphries doesn't yet know how she will vote when she heads to the polls. While there are other issues at play during this election – the inflation and the economy could be what breaks Democrats' hopes this November.
After all, it's the economy stupid, as the Democrats own mantra reminds them.