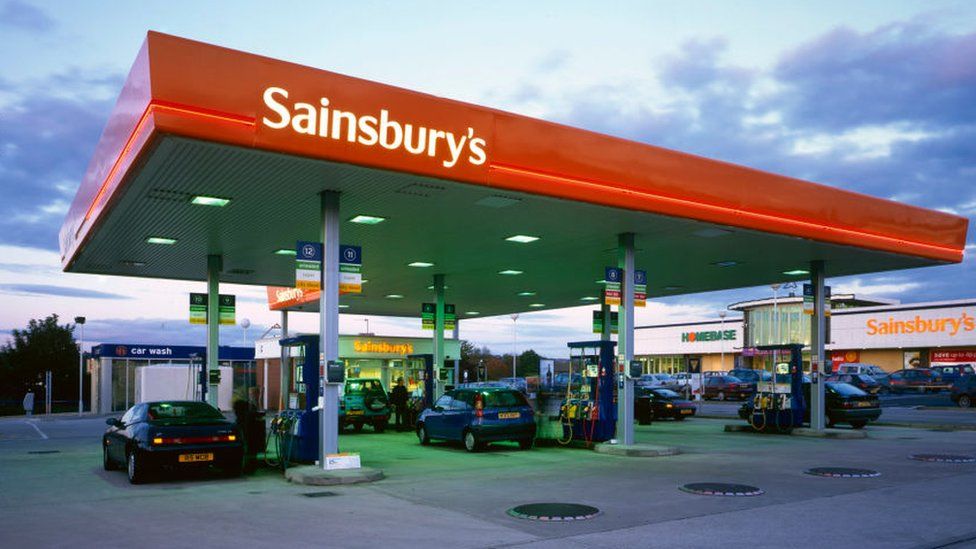 Petrol stations at the UK's major supermarkets will be closed for most of the day of the Queen's funeral, before some reopen in the evening.
Tesco, Sainsbury's, Asda and Morrisons will close forecourts on Monday before some reopen at 17:00 BST.
It is understood only a small number of Tesco self service fuel stations will reopen in the evening and customers have been advised to check local pumps.
Supermarkets operate about one-in-five of forecourts, but dominate fuel sales.
Independent traders operate about two-in-three of the country's filling stations, but only sell just over a third of all fuel, and the remainder is accounted for by sites owned by oil companies, according to the RAC motoring group.
"With many supermarket forecourts closed until the evening on Monday, our advice to drivers needing to refuel is to seek out a good value independent filling station that's choosing to stay open, or top up over the weekend instead," RAC fuel spokesman Simon Williams said.
The Petrol Retailers Association, which represents independent fuel retailers, has been contacted for comment.
Morrisons said that while all of its supermarkets will be closed on Monday as a "mark of respect and so colleagues can pay tribute to Her Majesty", its petrol stations would reopen at 17:00.
However, the majority of its fuel stations have different opening times so drivers have been urged to check if local ones are open on the company's website.
Sainsbury's said its filling stations will be open from 17:00 to 22:00 on Monday to allow customers to "pick up essential items".
"We thank our customers for their understanding," the supermarket said in a statement.
Major shops and businesses across the UK have announced they will shut their doors as a mark of respect for Queen Elizabeth II on the day of her funeral.
King Charles III approved a bank holiday on Monday for the state funeral at Westminster Abbey, but it is up to employers to decide whether to give staff the day off to observe the national day of mourning.
Shell said it would close its company-owned petrol stations between 10:30 and 13:00.
The oil giant has a total of 1,123 sites in the UK and owns and operates 526 of them. The remaining 597 are owned by independent dealers, which trade under the brand.
The company said its intention was the shut during the funeral service to "allow staff and customers to pay their respects".
It said the opening hours of its independent stations were at the "discretion of individual business", but added that the company had "invited them to also consider closing to enable their staff and customers to pay their respects".