Boris Johnson has said the late Queen Elizabeth II was "bright and focused" in their last meeting before his resignation as prime minister.
He tendered his resignation to the Queen at Balmoral Castle in Scotland on Tuesday last week before she appointed his replacement, Liz Truss.
Mr Johnson told the BBC he was moved by the Queen's "sense of duty" when her death was announced two days later.
He said he thought the British monarchy would endure thanks to the Queen.
While she modernised and "revolutionised" the UK's constitutional monarchy, Mr Johnson said, her greatest achievement was assuring the succession to her son, King Charles III.
The 14th prime minister of the Queen's 70-year reign, Mr Johnson reflected on the late monarch's life and the impression she left on him during their encounters while he was in office.
Like every prime minister, Mr Johnson held weekly audiences with the Queen to inform her about matters of national importance.
Describing their final meeting, when he offered his resignation, Mr Johnson said: "Given how ill she obviously was, how amazing it was that she be so bright and focused. It was a pretty emotional time."
In the last of the BBC's series of interviews with former prime ministers, presenter Fiona Bruce asked Mr Johnson if he was ever too busy to attend his weekly audience with the Queen.
"No, you must be joking," Mr Johnson said, describing his regular meetings with the Queen as "a fantastic break from everything else" and "a wonderful moment of tranquillity".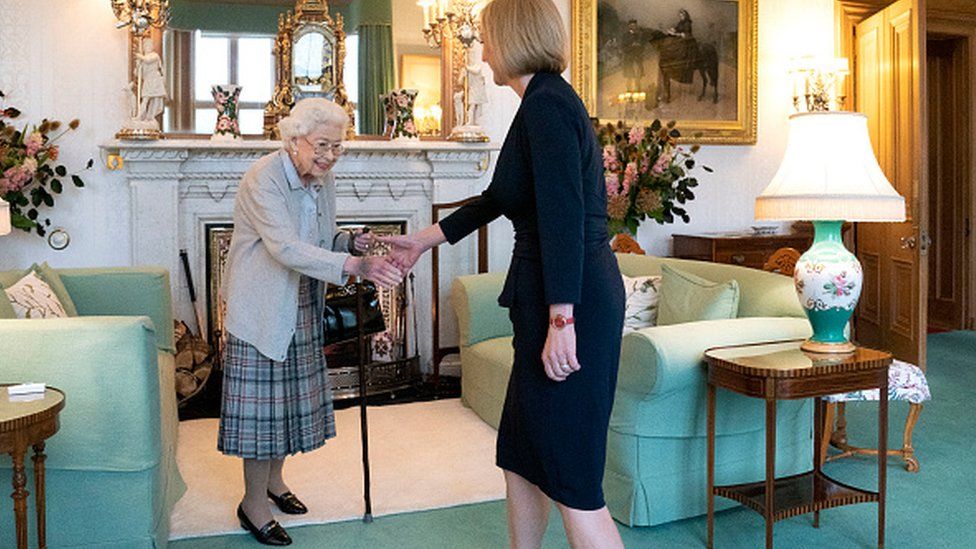 During the Covid-19 pandemic, some of those weekly audiences were held virtually while social-distancing regulations were in force in England, and across the UK.
Mr Johnson recalled how his government worked with Buckingham Palace to organise a special address to the nation, delivered by the Queen during the first lockdown in April 2020.
In it, the Queen reassured the nation "we will meet again", evoking the words of the Vera Lynn wartime song and the UK's blitz spirit during World War Two.
Mr Johnson said the message was "incredibly important", and even pop stars "wouldn't have the same impact as that broadcast".
The congregation wore masks and was socially distanced in line with Covid rules at the time, with the Queen seated alone.
It later emerged that Covid rule-busting parties were held in Downing Street on the eve of the funeral. "How did you two get past that?" Mr Johnson was asked.
"Because of her great sense of constitutional function she never got into that sort of conversation," Mr Johnson said. "She was really absolutely focused on what she saw as the important issues. It's a very trusting environment, the audience with Her Majesty. So that never came up."
What was discussed, though, "was just about everything under the sun", Mr Johnson said.
Mr Johnson said the Queen was an "amazing authority about history, about politics" and knew everyone, from former US President John F Kennedy, to former Indian Prime Minister Jawaharlal Nehru.
And he referred to the "sweep of progress" over the past 70 years, saying: "That's why I think she should be Elizabeth the Great, by the way, because look at what happened to this country in her reign. The immeasurably advances in prosperity and opportunity and longevity, whatever your metric is."
When asked how he responded to the Queen's death, Mr Johnson – now a backbench Conservative MP – said he felt "this slightly inexplicable excess of emotion".
"Speaking entirely personally, for me it was a colossal thing," he said.
Finally, Mr Johnson was asked if Charles – who was both the oldest and the longest-serving heir apparent in British history – would be different as King.
"I don't know that he will necessarily will be different in a fundamental way," Mr Johnson said, describing the succession as "absolutely flawless".