Tory leadership rivals Rishi Sunak and Liz Truss have set out competing plans to deal with the economic recession forecast by the Bank of England in their latest TV clash.
Mr Sunak said Ms Truss's "unfunded" tax cuts would pour "fuel on the fire" of inflation.
But Ms Truss said a recession was "not inevitable" if "bold" action was taken.
The Bank's gloomy forecast of a recession this year loomed large in the TV special, hosted by Sky News.
The inflation rate is forecast to hit a 42-year high of 13% this year, while the UK economy is expected to shrink for more than a year.
The Bank said main reason for high inflation and low growth is rising energy bills, driven by Russia's invasion of Ukraine.
The worsening state of the UK economy has dominated the Tory leadership campaign, with both candidates putting forward rival visions to deal with the fallout.
Mr Sunak, who has trailed Ms Truss in recent polls, has repeatedly said he would prioritise bringing inflation down before cutting taxes, if he became prime minister.
Meanwhile, Ms Truss has pledged a package of tax cuts worth £30bn soon after she enters office, which Mr Sunak has argued would increase inflation and the cost of borrowing.
Mr Sunak told the Sky News programme: "We in the Conservative Party need to get real and fast – because the lights on the economy are flashing red and the root cause is inflation.
"I'm worried that Liz Truss's plans will make the situation worse."
Ms Truss reiterated her pledge to immediately reverse April's increase in National Insurance and cut other taxes, which she claimed would stimulate economic growth and prevent a recession.
"What the Bank of England have said today is of course extremely worrying, but it is not inevitable," she said.
"We can change the outcome and we can make it more likely that the economy grows."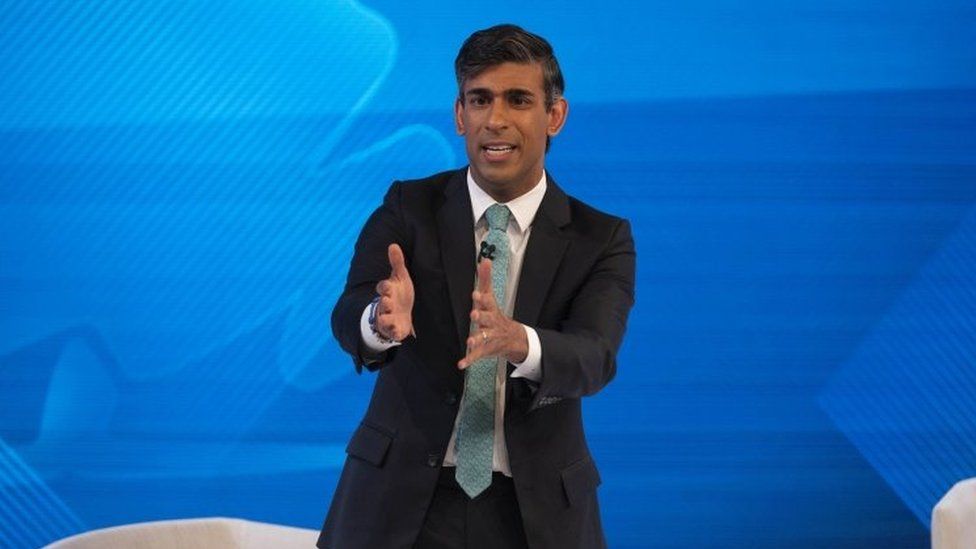 The pair are vying to win over Conservative Party members, whose votes will determine which of them will become the next Tory leader and British prime minister.
The party's roughly 160,000 members started receiving ballot papers on Monday, with the result due on 5 September, when Prime Minister Boris Johnson will leave office.
Despite trailing in many polls of members, there may be solace for Mr Sunak who appeared to win the most support among the Sky News audience members in a show of hands.
Thursday's Sky News programme marked their third TV appearance together since they made the final two of the leadership contest last month.
An audience made up of Conservative members grilled them about their programmes for government on a range of issues, including NHS funding, immigration and climate change.
In one testy exchange, Ms Truss disagreed with an audience member who expressed concerns about the debt that would be incurred by the foreign secretary's tax plans.
Ms Truss said in response that "trying to balance the books prematurely is actually counterproductive" and growing the economy was more important.
Asked if she was happy with the answer, the Conservative member said she was not.
She told Ms Truss that what former Tory prime minister Margaret Thatcher "believed in was sound money", adding "this is not sound economics".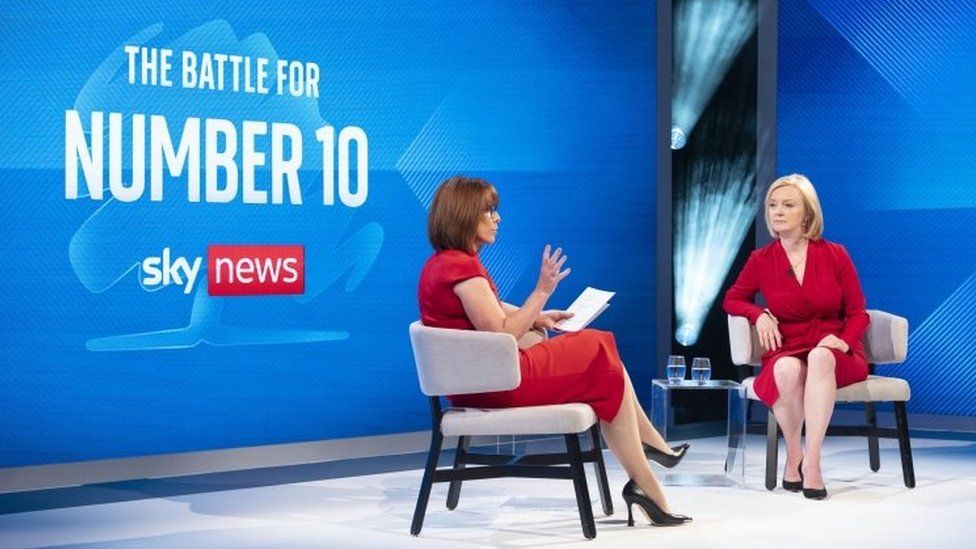 But Ms Truss resisted such an admission, and instead insisted her regional pay policy was "misrepresented by various people".
At times, Mr Sunak looked uncomfortable when pressed by Ms Burley, too. She asked how he felt about so many former cabinet colleagues – including Nadhim Zahawi, Ben Wallace and Sajid Javid – backing Ms Truss's campaign and not his.
"Plenty of people who have sat around the cabinet table also support me," Mr Sunak said, highlighting Deputy Prime Minister Dominic Raab as one of his supporters.
Mr Sunak – a former chancellor – was most animated on questions about the economy, though.
On whether there was nothing he could do about a recession, Mr Sunak said: "Of course, there is, of course."
He said Ms Truss was wrong to suggest the tax burden was causing the recession.
"What's causing the recession is inflation," he said. "That's the root of the problems, not just here, but in America and elsewhere."
"So the way we're gonna get through this first and foremost is gripping inflation."
In other parts of the TV programme, Ms Truss:
said she wanted to encourage doctors who came out of retirement to help the NHS during the pandemic "to come back into the profession"
refused to say whether she would suspend Boris Johnson as a Tory MP if he was found to have lied to Parliament
insisted she has nothing to hide, telling the audience "there are no skeletons in my closet"
insisted he would "fight incredibly hard 'til the last day" of the leadership campaign and not quit before results day
said an "enormous difference" can be made between now and next winter to reduce the UK's dependence on Russian energy
defended an old video where he claimed not to have any working-class friends, saying "we all say silly things when we are younger"