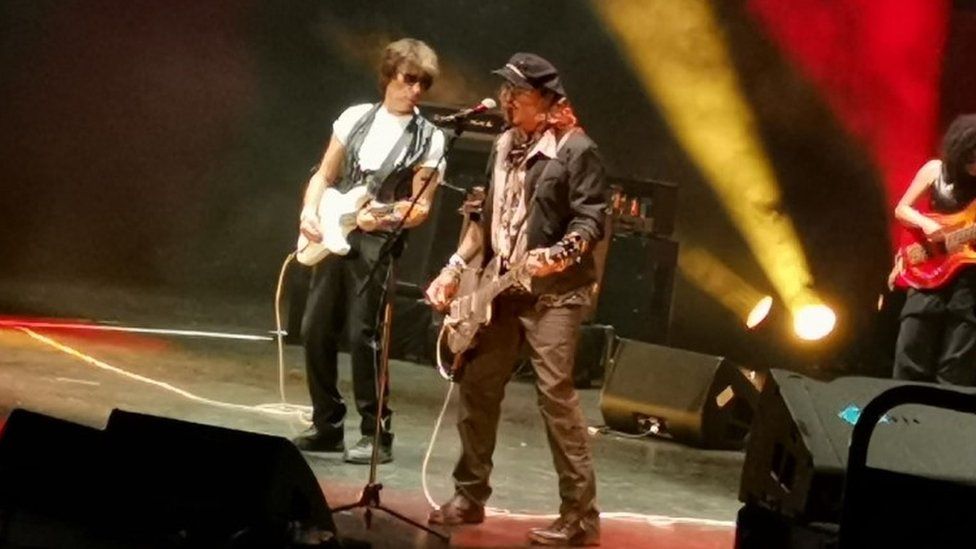 Hollywood star Johnny Depp has made an unscheduled appearance at a rock concert in London as he awaits the verdict in the defamation trial involving his ex-wife Amber Heard.
The actor appeared with British guitarist Jeff Beck at the Royal Albert Hall.
Jury deliberations in Mr Depp's high-profile battle with Ms Heard are due to resume later on Tuesday.
Mr Depp, 58, sued his ex-wife for $50m (£40m) for an article she wrote in which she claims to be an abuse victim. Ms Heard, 36, counter-sued for $100m.
The jury of seven must come to an unanimous decision for a verdict.
They began their deliberations on Friday, shortly after both sides delivered their closing arguments, but then adjourned until after Monday's US Memorial Day holiday.
Mr Depp and Jeff Beck among other things performed the John Lennon song Isolation, which they collaborated on in 2020.
The performance provoked a mixed reaction from concert-goers.
Angela Flannery, 38, from Southend told PA news agency that Mr Depp had "smashed it", adding that she had no idea he would be playing.
"I'll die happy, I've been in the same room as him now," she said.
But Peter Schmidt, who came to London from Frankfurt specially for the concert, said he felt "duped" and described Mr Depp as an "embarrassment".
"I had been waiting 50 years to see Jeff Beck live… this was the biggest let-down of my life," he said, quoted by Reuters.
Mr Depp is expected to perform again at the London venue on Tuesday, but the verdict could come any time.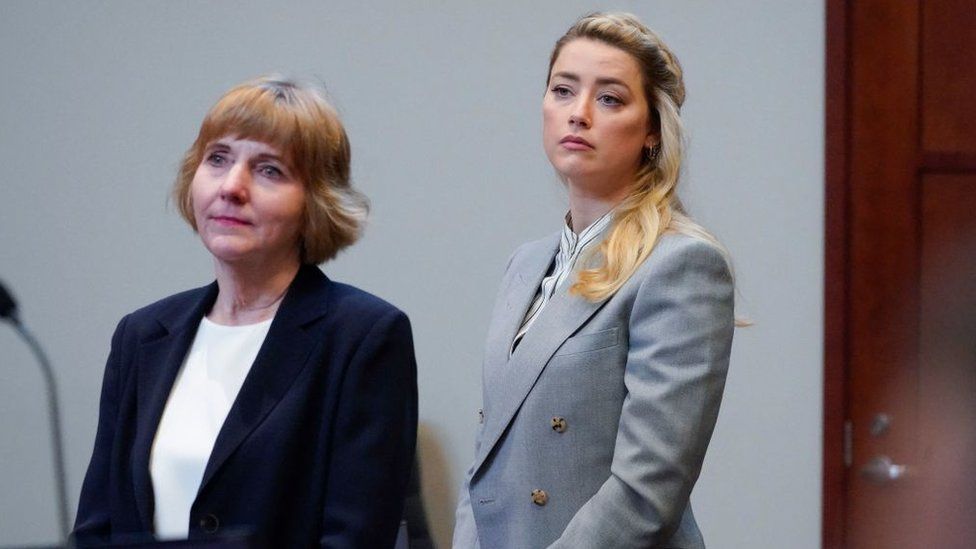 On Friday in summing up Mr Depp's case, his lawyer asked jurors to "hold Ms Heard accountable for her 'lies'".
Ms Heard's team, however, described Mr Depp as a bully and abuser, not to be trusted.
Benjamin Rottenborn, a lawyer for Ms Heard, reminded jurors of explicit text messages between Mr Depp and his friends, telling them he wanted to visit harm upon his ex-wife.
"This is a window into the heart and mind of America's favourite pirate," Mr Rottenborn said. "This is the real Johnny Depp."
Mr Depp's lawyer Camille Vasquez, in contrast, called Ms Heard's allegations of abuse "wild, over the top and implausible".
Friday's arguments echoed much of the past six weeks of trial, where both sides presented warring accounts of the former couple's five-year relationship.
The celebrity case – broadcast live every day – garnered intense public interest as both actors lobbed serious accusations of emotional, physical and verbal abuse at the other.