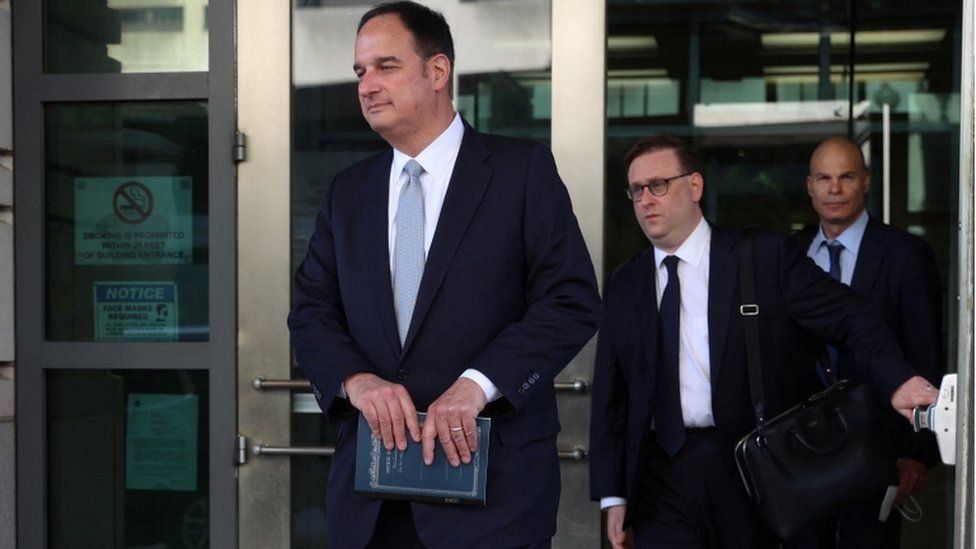 A lawyer with ties to the US Democratic party has been cleared of lying to the FBI during the frenzied final days of the 2016 presidential campaign.
Michael Sussman, 58, had been charged with lying to investigators and concealing his ties to Hillary Clinton's campaign.
At the time, Mr Sussman was looking into possible links between Russian officials and the Trump campaign.
The FBI looked into the allegations and found nothing suspicious.
A former federal prosecutor, Mr Sussman had been charged by special counsel John Durham, a US government attorney appointed by then-President Donald Trump's justice department in 2019 to investigate potential illegalities in the government's handling of investigations into Mr Trump's 2016 presidential campaign.
In the first case the Durham team brought to trial, prosecutors told a jury in a District of Columbia federal court that Mr Sussman had concealed his ties to Mrs Clinton's presidential campaign when presenting information to the FBI about what he said were suspicious data transfers – possibly covert communications – between computer servers in Mr Trump's New York business headquarters and Alfa Bank, one of Russia's largest private financial companies.
Prosecutors alleged Mr Sussman did so because he knew the FBI would be less likely to investigate if the information came from a partisan source.
They also said that Mr Sussman had warned the FBI that a major media outlet (later revealed to be the New York Times) was preparing to report on the matter and that the FBI should investigate before the link became public – without revealing that he was also the source of the information for the Times.
They framed this as part of a larger effort by the Clinton campaign to trigger an FBI investigation that could then be cited as evidence of a nefarious relationship between Mr Trump and Russia just weeks before voters headed to the polls.
The jurors, however, were apparently swayed by Mr Sussman's lawyers, who argued that the prosecutors were building a vast conspiracy theory around a 30-minute meeting with FBI General Counsel James Baker.
The defence team also said that research into political opponents shared with the media and government investigators is a common practice and that Mr Sussman's Democratic ties were public knowledge.
To win their case, prosecutors had to prove that Mr Sussman lied and that his lies were relevant to the investigation the FBI launched into the matter.
During the trial Mr Baker testified that he would have viewed the information differently if he had known of Mr Sussman's Democratic connections.
In court, he offered sometimes contradictory recollections of his meeting with the lawyer during which there were no recorded notes and frequently testified that he could not recall certain details of the conversation.
The FBI ultimately decided to investigate Mr Sussman's Alfa Bank claims, but concluded in early 2017 that there was no evidence of illegality.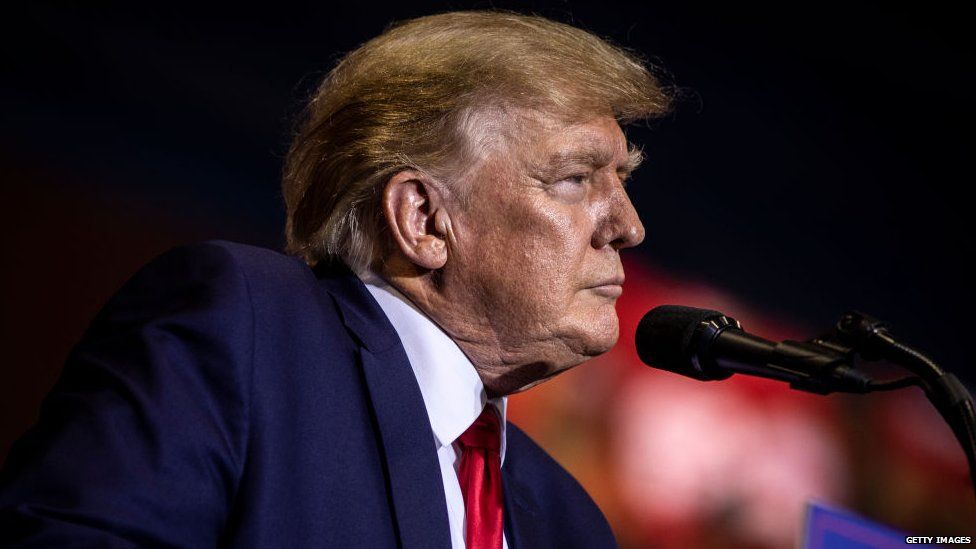 After the verdict was announced, Mr Sussman told reporters outside the court that the jury recognised he had not lied to the FBI.
"Despite being falsely accused," he said, "I am relieved that justice ultimately prevailed in this case."
Mr Durham's office released a statement saying prosecutors were "disappointed in the outcome of the case", but that they respected the jury's decision.
The Durham investigation has been spotlighted by Mr Trump and his supporters as being pivotal to proving that the investigations into possible ties between Mr Trump and Russia – including Robert Mueller's 2017 special counsel inquiry – were part of a biased and unfounded scheme to derail his 2016 campaign and damage his presidency.
They hoped the Sussman prosecution would be the first case in a series of prosecutions that would reach deep into the Clinton campaign.
In an interview with Fox News in February, Mr Trump said Mr Durham was exposing "treason at the highest level".
"Durham is also coming up with things far bigger than anybody thought possible," he said of the case against Mr Sussman. "Nobody ever thought a thing like this would be even discussed, let alone an act like this committed."
Mr Mueller's probe ended in 2019 with no finding of a criminal conspiracy between Russia and the Trump campaign, although it documented multiple contacts between Russians and members of the Trump team, as well as extensive attempts by the Russian government to undermine Mrs Clinton's Democratic campaign.
The Mueller report did not include any discussion of the Alfa Bank data allegations.
In addition to his case against Mr Sussman, the Durham investigation reached a plea agreement with former FBI lawyer Kevin Clinsemith, who admitted to altering an email used to obtain a secret FBI surveillance warrant for former Trump foreign policy adviser Carter Page.
The special counsel office has also brought charges against Igor Danchenko, a Russian national living in the US, for lying to the FBI about where he obtained information used in a "dossier" of unsubstantiated allegations about Mr Trump produced by former British intelligence agent Christopher Steele.
That case is set to go to trial in October.