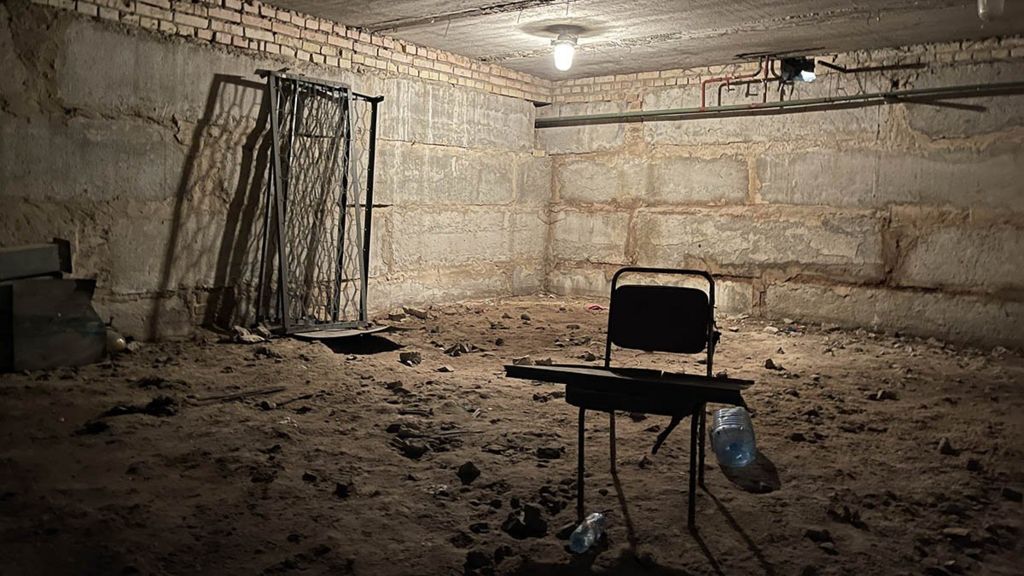 Since Russian forces were pushed back from Kyiv at the end of March, the bodies of more than 1,000 civilians have been discovered in the Bucha region – many hastily buried in shallow graves. The BBC's Sarah Rainsford has been investigating what happened at a children's summer camp – now being treated as a crime scene.
*This report contains material some readers will find disturbing*


It is easy to miss the killing spot at first in the gloom. But in a cold, damp basement on the edge of the woods that made Bucha a popular get-away spot before the war, five Ukrainian men were forced to their knees and shot in the head.
To the right of the entrance, there are stones coated in blood that has turned dark red. Lying among that is a blue woollen hat with an exit hole in one side and its rim soaked in blood. In the wall, I counted at least a dozen bullet holes.
A couple of steps away are the remains of a Russian military ration pack – an open can of rice porridge with beef and an empty packet of crackers. A name daubed in graffiti on a wall is a reminder that the scene is a children's camp. But when Russian troops moved into Bucha, just outside the capital, in early March, Camp Radiant became an execution ground.
The story of the summer camp killings is chilling but so is this detail: more than 1,000 civilians were killed in the Bucha region during a month under Russian occupation, but most did not die from shrapnel or shelling. More than 650 were shot dead by Russian soldiers.
Now Ukraine is searching for their killers.


Volodymyr Boichenko lived in Hostemel, just up the road from Bucha and near the airfield where the first Russian forces landed to try to overthrow Ukraine's government. When his sister Aliona Mykytiuk decided to flee before the fighting reached her, she pleaded with Volodymyr to join her. He was a civilian, not a soldier, but he wanted to stay and help. So he spent the days searching Hostemel for food and water to bring to neighbours, including children, who were trapped in their cellars by the constant shelling and Russian airstrikes.
A chatty 34 year old, who had travelled the world in the merchant navy, Volodymyr phoned his family from Hostemel most days to reassure them he was safe. Aliona would wait nervously for his brief calls: she knew he had to move to higher ground to get a connection and if the shelling was heavy it was impossible to leave the bomb shelter. As supplies ran low, she urged her brother to try to escape but by then the roads were blocked.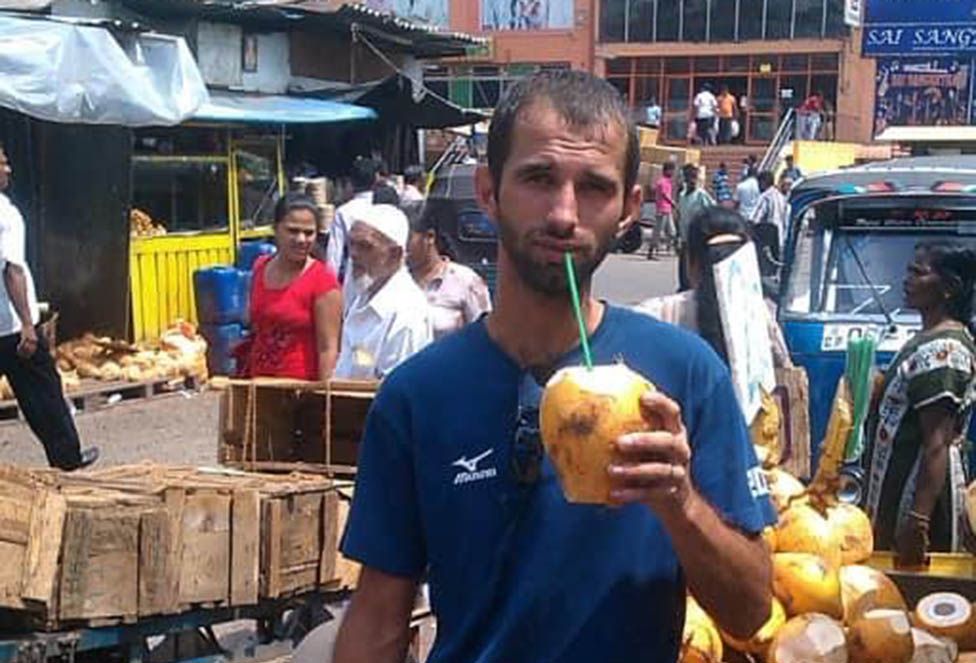 The last time Aliona heard from him was on 8 March. Volodymyr wasn't the demonstrative type, but that day he told his sister not to worry about him. "He said 'I really love you,' and that was so painful to hear," Aliona sobs, rubbing her eyes hard but unable to stop the tears. "There was fear in his voice."
Four days later, Volodymyr was spotted by neighbours close to Promenystyi, as it's known here, or Camp Radiant. Then he disappeared.
In March, the fighting around Kyiv was intense and the small town of Bucha was at the epicentre. The withdrawal of Russian troops in early April revealed scenes that shocked the world: the bodies of residents slumped in the streets where they'd been shot.
Moscow tells anyone who will listen that the killings were staged, an idea that is as twisted as it is patently false. Determined to hold those responsible to account, Ukrainian investigators are busy collecting the hard evidence on territory now back under their control.
"We don't know what Putin's plans are, so we are working as quickly as possible in case he drops a bomb and destroys all the proof," says Kyiv regional police chief, Andrii Niebytov.
That evidence includes a field full of civilian cars pierced with multiple bullet holes, now piled up on the edge of Bucha. They are vehicles that were shot at when families tried to flee. One still has a length of white cloth at the window, hung to show the soldiers that its occupants were no threat. Step too close, and you catch the sickly smell of death.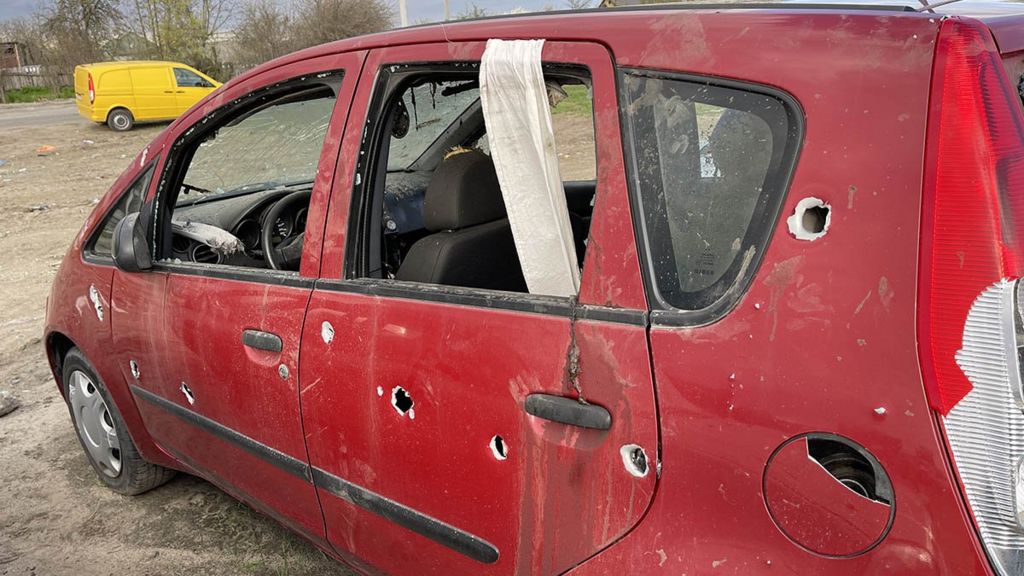 When the bodies beneath Camp Radiant were discovered on 4 April, Volodymyr Boichenko was among them. Aliona had spent weeks frantically calling hospitals and morgues. That day she was sent a photograph to identify. She knew it was her brother before it had even downloaded.
"I hate them with every cell of my being," Aliona cries, about Volodymyr's killers. "I know that's wrong to say about people, but they are not human. There was not one patch on those men's bodies that was not beaten."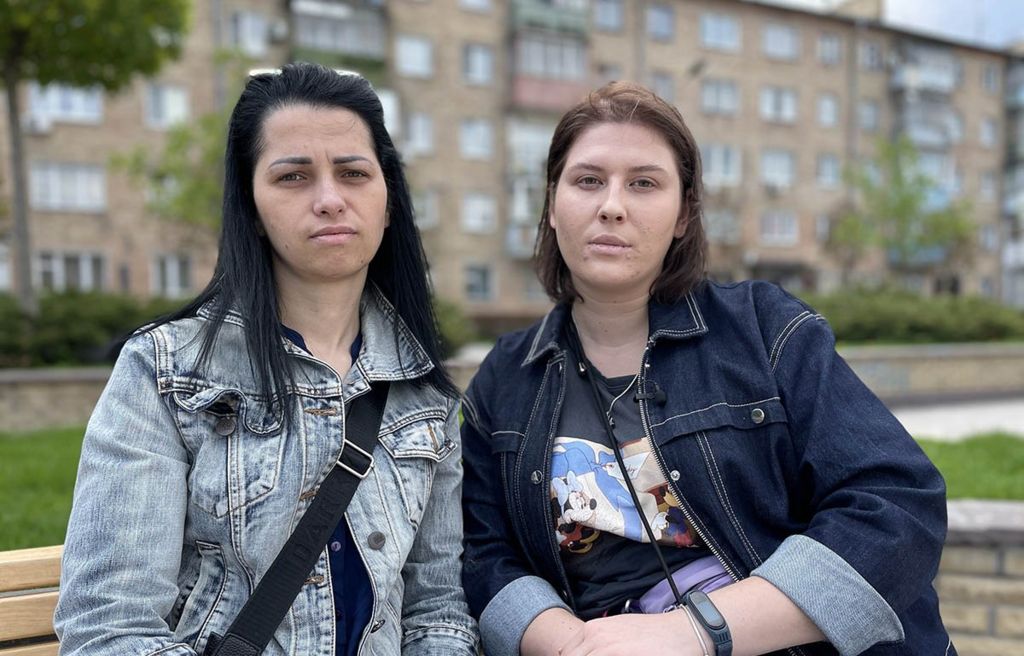 The five men had been found crouching on their knees, heads down and hands bound behind their backs.
"We know they had been tortured," the police chief told the BBC. "The Russian army has crossed the line of how war is conducted. They were not fighting the military in Ukraine, they were kidnapping and torturing the civilian population."
Neither the Prosecutor's Office nor the SBU security service will disclose details of ongoing investigations, but some Russian military were so careless at covering their that tracks there are likely to be considerable clues to work with. Ukrainian territorial defence units have even discovered lists of soldiers at some abandoned positions. One appears to be part of a rota for litter duty, another includes passport details and mobile phone numbers.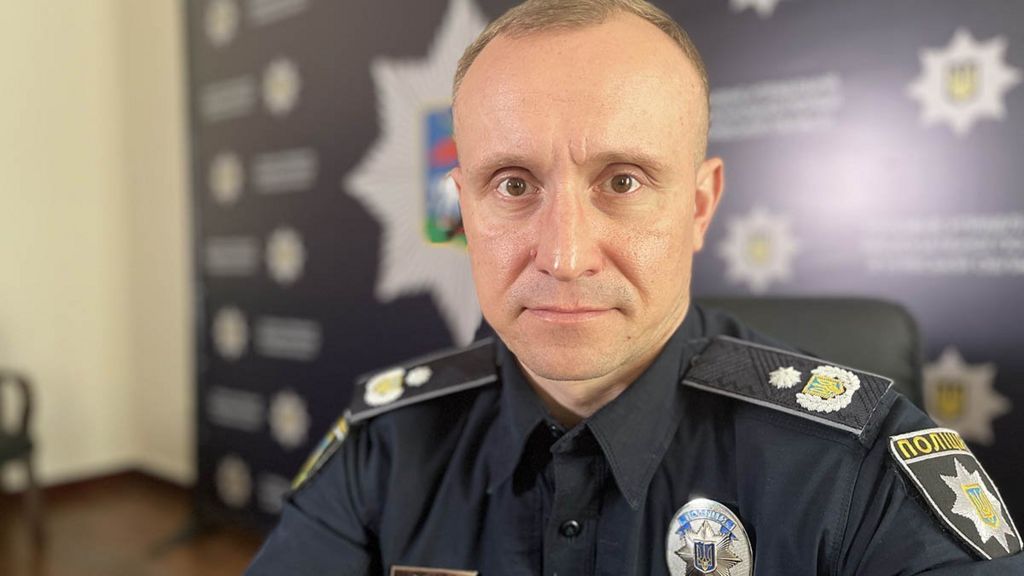 With such a vast volume of work – more than 11,000 potential war crimes cases registered so far – Ukraine's security services have called on more digitally savvy civilians for help.
"I feel some call of duty," said Dmytro Replianchuk, a journalist at slidstvo.info who worked to expose corruption within Ukraine's law enforcement bodies before the war. Now he's joined forces with prosecutors, scouring the internet for extra data to help catch suspected war criminals.
"I understand it will be so hard and a lot of cases won't be solved. But in these weeks, it's important to find as much information as possible," Dmytro explained.
We found one potential clue among the litter at Camp Radiant – the wrapping from a parcel sent by a woman named Ksyukha to a Russian soldier whose own name and military unit are clearly marked. Unit 6720 is based in Rubtsovsk, in the Altai region of Siberia. It has been linked to Bucha before when soldiers from the town were caught on CCTV sending giant packages to relatives full of goods that they had looted from Ukrainian homes.
We can't be sure yet whether soldiers from Rubtsovsk were based at the children's camp, or were there when the men were killed. The police first need to establish a more precise time of death.
"We are working on it, but it's not a quick thing," Mr Niebytov explains. "But that camp was a headquarters so there would have been a commander. The soldiers could not have executed anyone without the commander's knowledge. So we will first find the organisers and then look for the implementers."
Across the road from Camp Radiant, behind a church spattered with shrapnel damage, a corner of Bucha is slowly showing renewed signs of life. Young boys run around the yard, while a man fixes sheets of wood to windows shattered when the town was being shelled, constantly. And a little shop has just reopened to serve others now trickling back to begin their own repairs.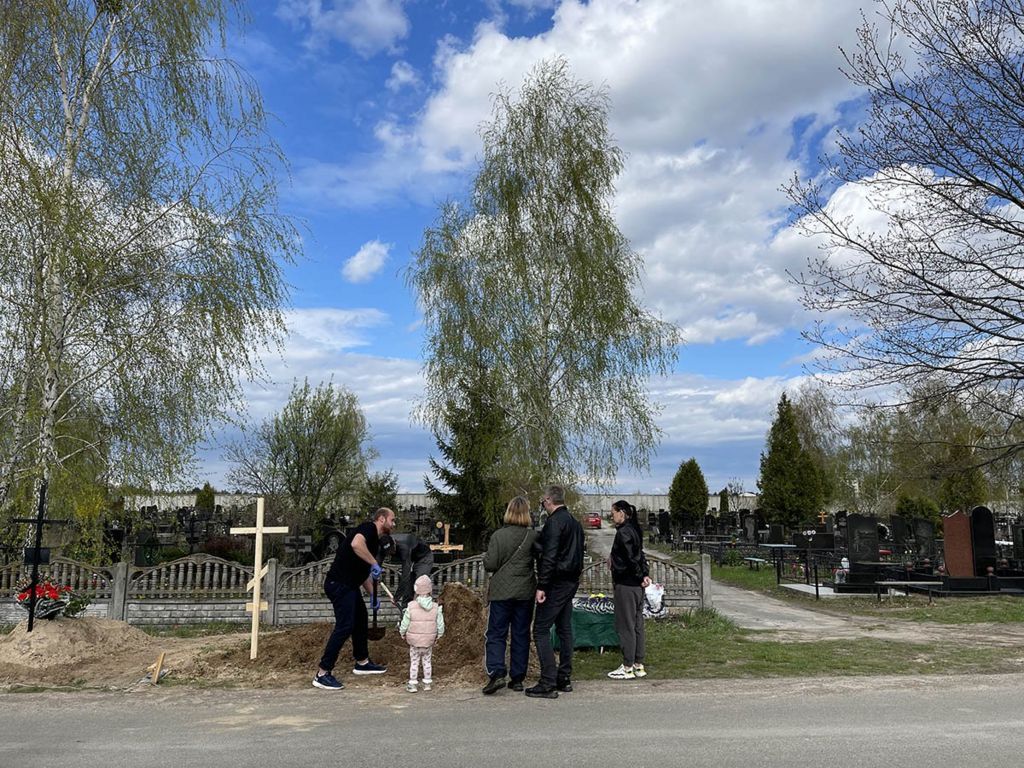 As neighbours cross paths, they discuss the days when Russian tanks rolled into their town, the soldiers who would shoot wildly and those who roamed the streets drunk, breaking into homes and stealing from them. And they remember the local man who escaped to their block of flats from the summer camp opposite, and who they had sheltered despite the risk.
Viktor Sytnytskyi didn't know Camp Radiant before, but all the details he gives match up. He's now in western Ukraine and told me his story over the phone, calling from his car so he wouldn't upset his mother.
It was early March when Viktor was grabbed by Russian soldiers on the street. They tied his hands and pulled his hat down over his eyes, then dragged him to a cellar that he's sure was on the grounds of the children's camp.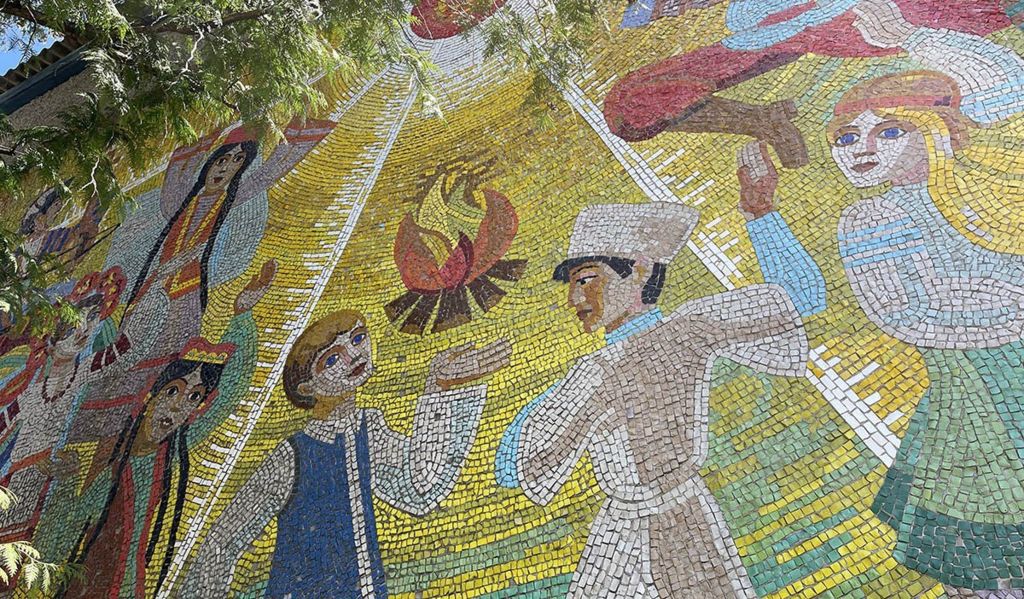 There, the Russians poured water over his legs so he would freeze, and they held a gun to his head.
"They kept saying, 'Where's the fascists? Where's the troops? Where's Zelensky? One of them mentioned Putin so I said something rude and he hit me," Viktor recalls.
He remembers being angry at his captors as well as terrified. He had worked in Moscow in the past with men from Siberia and was horrified that Russians could now treat him with such brutality. Even more so, when one of the soldiers revealed that he, too, was from Siberia.
Viktor told him he was sad things had come to this.
"The sad thing is that our grandfathers fought together against the Nazis and now you're the fascists," was the Russian's angry reply.
"He told me: 'You have until the morning to remember what you've seen, and if not, you'll be shot.'"
That night, Viktor got lucky. There was heavy shelling and when he realised his captors were no longer guarding him, he ran for his life.
"I calculated that I had more chance of surviving under shelling than if I stayed in that cellar. They'd already put the gun to my head. What would it cost them to pull the trigger?"


From a common grave beneath the children's camp, Volodymyr Boichenko has now been given a proper burial beneath the cherry blossom in the old cemetery of Bucha.
After his funeral, Aliona says she finally saw her brother's face in her dreams again, as if he were comforting her.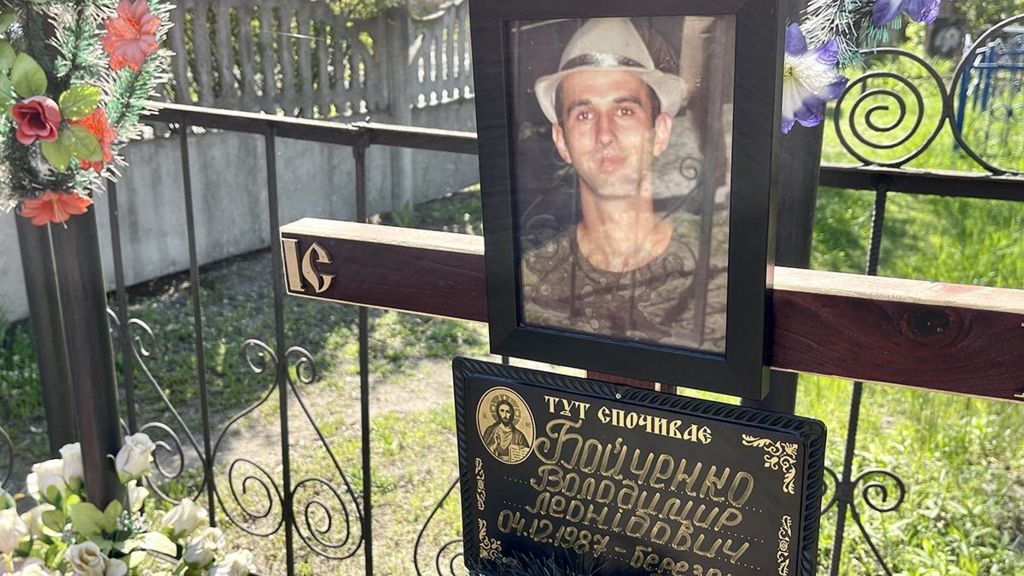 But she still has many questions. The cross on Volodymyr's grave is marked only with his birthday, not the date of his death, because the family have no idea when he was shot.
They may never know, unless the Russian commander who took over Camp Radiant can be found.
Like everyone in Bucha, though, they do know that civilians are not only caught up in this war. They are being targeted – by Russian soldiers who either don't know the rules of war, or don't care.
Photographs by Sarah Rainsford unless otherwise marked
Additional reporting: Daria Sipigina, Mariana Matveichuk and Tony Brown


War in Ukraine: More coverage