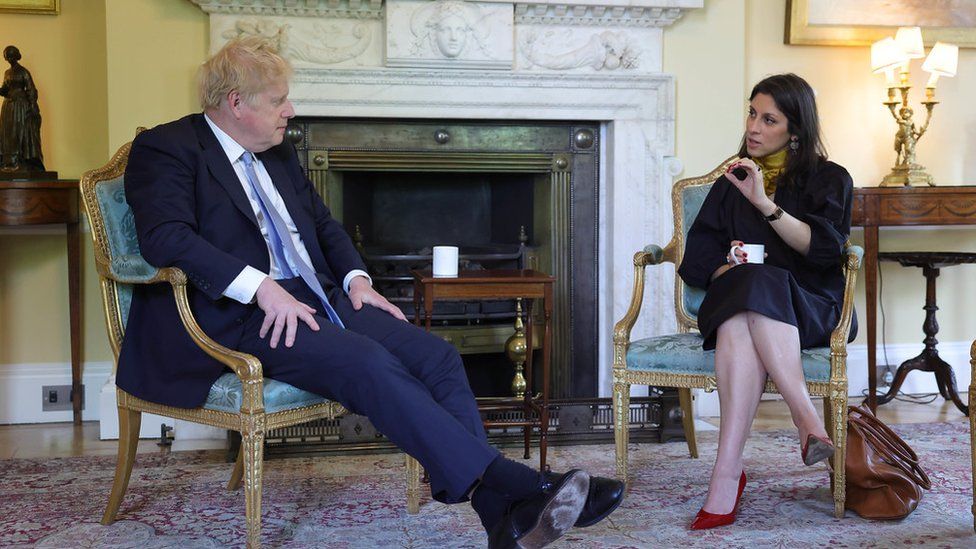 Prime Minister Boris Johnson did not explicitly apologise to Nazanin Zaghari-Ratcliffe after she criticised his handling of her six-year detention in Iran, her husband has said.
Mrs Zaghari-Ratcliffe asked the PM why it took so long to get her home as she met him at Downing Street.
Her husband Richard said she told the PM his erroneous comments about her in 2017 had left a "lasting impact".
She was freed in March after the UK settled a historic debt to Iran.
Mr Ratcliffe said the meeting was "warm", but when asked if the prime minister had apologised for "mistakes" he had made in the case, he said: "Not explicitly."
In 2017, when Mr Johnson was foreign secretary in Theresa May's government, he erroneously said Mrs Zaghari-Ratcliffe had been training journalists in Iran.
Recalling what his wife told the prime minister, Mr Ratcliffe said: "I just want you to know the mistake, the comments in 2017, had a lasting impact."
"She said I lived with that for ages and I knew it was a mistake, but it lingered."
Labour MP Tulip Siddiq, who also attended the meeting, said Mrs Zaghari-Ratcliffe had "very clearly and categorically" told the prime minister that his words had had a "big impact" on her and that she "lived in the shadow" of them for four and a half years.
Ms Siddiq said the prime minister "looked quite shocked".
Mr Ratcliffe said "late is a lot better than never" but there were "lessons to learn" in the handling of his wife's detention in Iran.
"We talked about the mistakes made at the end," he told reporters outside Downing Street.
"It was rough at the end, and I think, when Nazanin is ready to talk about it, that is something that we need to go through."
Ms Siddiq, who is the family's local MP, said the prime minister would consider giving evidence to the Commons Foreign Affairs Committee inquiry into Mrs Zaghari-Ratcliffe's case.
Ms Zaghari-Ratcliffe did not speak to reporters as she left the meeting.
At a news conference in March, Mrs Zaghari-Ratcliffe said it should never have taken the government so long to secure her release from prison in Iran.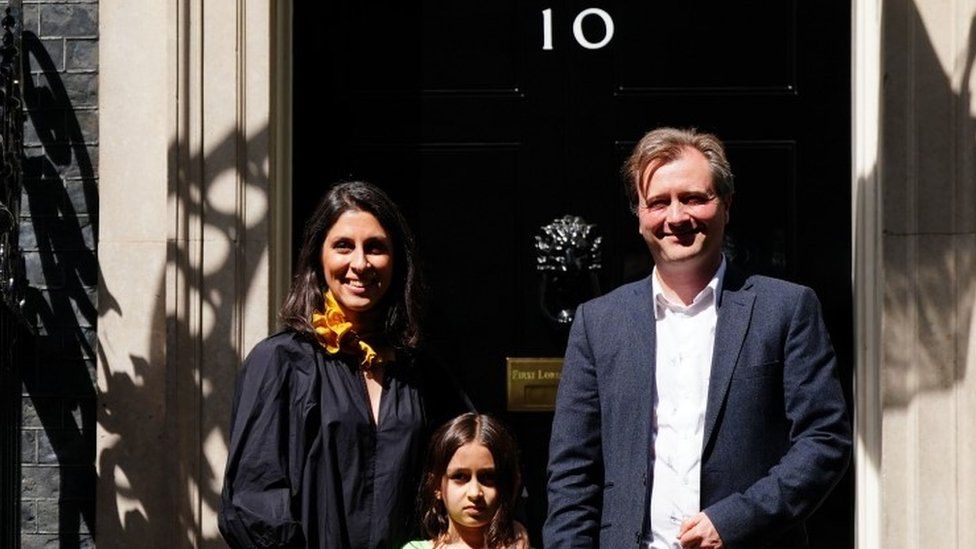 Mrs Zaghari-Ratcliffe was arrested on spying charges while visiting her parents in Iran, with her then two-year-old daughter Gabriella, in April 2016.
While in Iran in September 2016, Mrs Zaghari-Ratcliffe, a project manager for the Thomson Reuters Foundation, was accused of plotting to overthrow the Iranian government and was given a five-year sentence.
Then, in April 2021, she was sentenced for another year on charges of propaganda against the government.
Mrs Zaghari-Ratcliffe has always denied those allegations and said that she was only in Iran to visit her family.
Her release came after the UK government paid a £400m debt to Iran dating back to the 1970s, although both governments have said the two issues should not be linked.
Another British-Iranian national, Anoosheh Ashoori, was released at the same time as Mrs Zaghari-Ratcliffe.