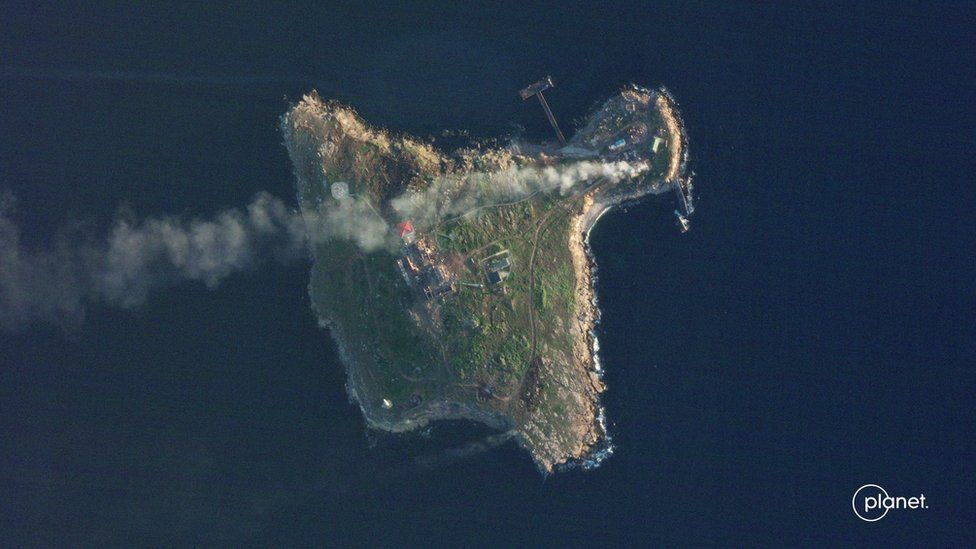 Right from the start of Russia's invasion of Ukraine, Snake Island was given a vital and almost mythical status in the war. This unremarkable, rocky outcrop in the Black Sea was seized by Russia and has become a battleground of strategic value.
Russia claims Ukraine has sustained disastrous losses in a failed bid to recapture the island, including special forces, warplanes, helicopters and drones. Ukraine insists it has limited its campaign to attacking facilities on the island and boats.
The battle is not over and Russia is repeatedly trying to reinforce its exposed garrison, says UK defence ministry intelligence.
Snake or Zmiinyi Island is a fraction of a square kilometre in size and there are no more snakes to speak of. But there can be no doubt of its importance for control of the western Black Sea.
"If Russian troops succeed in occupying Snake Island and set up their long-range air-defence systems, they will control the sea, land and air in the north-west part of the Black Sea and in the south of Ukraine," Ukrainian military expert Oleh Zhdanov told the BBC.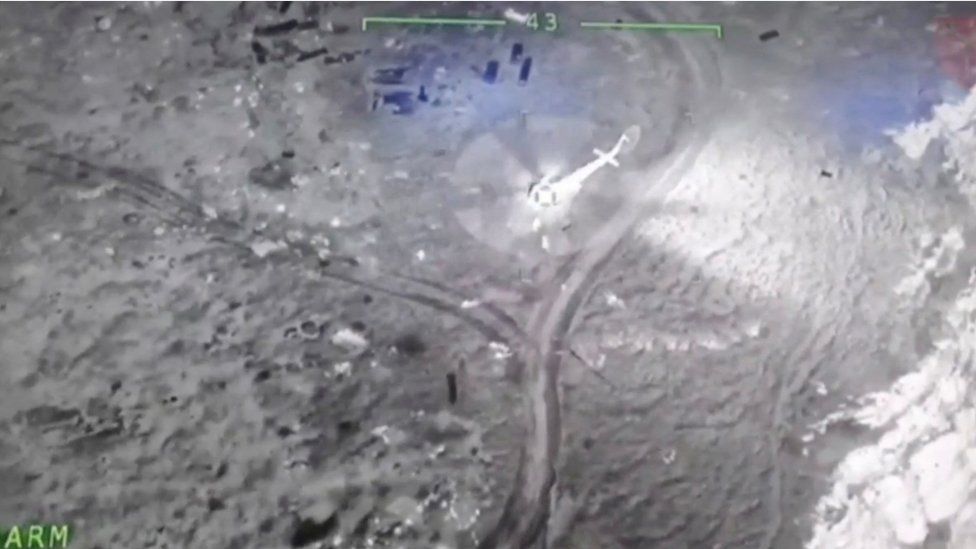 That is why Russia's flagship Moskva sailed there within hours of the start of the war, telling Ukrainian soldiers on the island to give themselves up: "I suggest you lay down your weapons and surrender to avoid bloodshed and needless casualties. Otherwise, you will be bombed," said a Russian officer.
"Russian warship get lost," came the now legendary response, although in far cruder language. The island was seized but weeks later the Moskva was sunk.
Losing the Moskva means Russia's supply ships to the island now have minimal protection, says the UK, although, if it can consolidate its position, then it could dominate a large part of the Black Sea.
Threat to Ukraine, its neighbours and Nato
A reinforced Russian presence could be disastrous for Ukraine, strategically as well as economically.
Ukraine has already had to close its port at Odesa, suspending vital grain exports, but Mr Zhdanov fears the island could also be used as a second frontline.
"If the Russians succeed in installing long-range air defence systems then they will be able to defend their squadron, which can reach Ukraine's coastline."
It would also give Russian troops the chance to break into Transnistria, Moldova's breakaway territory under Russian control that lies next-door to Ukraine and not far from Odesa.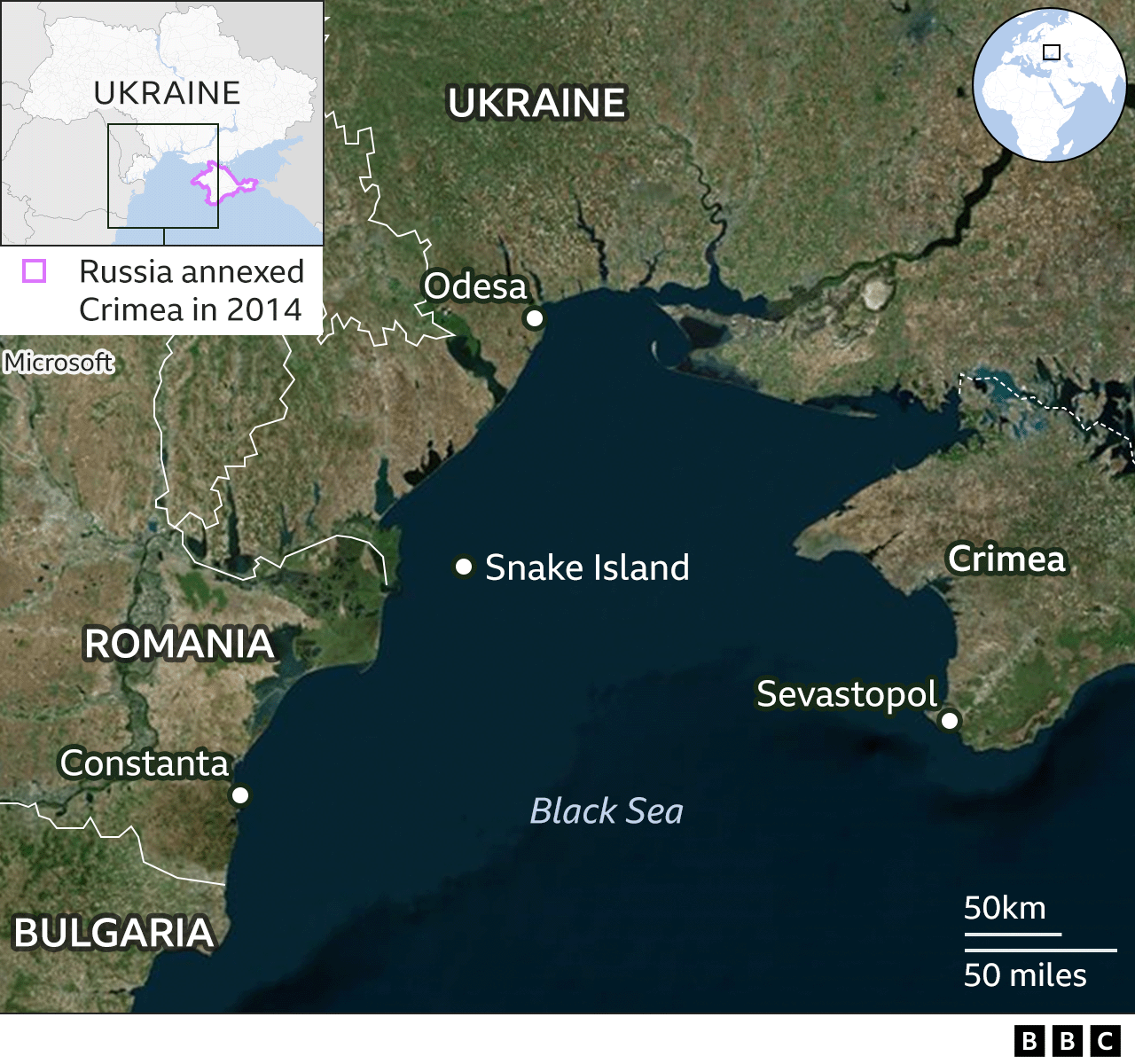 However, Snake Island is a mere 45km (28 miles) away from the coast of Romania, which is part of the West's Nato alliance.
UK naval analyst Jonathan Bentham believes a Russian S-400 air missile system on the island would be a "big game-changer". If Russia were able to deploy a missile system, not only would Odesa come under threat, but Nato's southern flank would be endangered, too, warns Romanian historian Dorin Dobrincu.
"This is very important for the Romanian government and people but also for the entire alliance. Russia would have the capacity to destroy cities and military capability in the east of our territory."
Nato reinforced Romania's borders from the start of the war, sending in Belgian and French forces.
But there are major economic risks, too, for Romania. Snake Island lies close to the mouth of the River Danube, which delineates Romania's border with Ukraine. Romania's Black Sea port of Constanta is not far south and has been taking in container ships that are no longer able to sail to Odesa.


War in Ukraine: More coverage


Russian military-political analyst Alexander Mikhailov said troops on Snake Island could be in a position to control traffic into the north-western Black Sea and the Danube delta – the gateway to south-eastern Europe. "If there's a military base or military infrastructure, it would be possible to block ships that enter the river as well as leave," he told Russian media.
Romania's Euro-Atlantic Resilience Centre believes Russia may decide to annex the island and control as many Black Sea shipping routes as possible towards the Bosphorus in Turkey.
Historically, Snake Island was Romanian territory until it was ceded in 1948 to the Soviet Union, which used it as a radar base. As Romania came under Soviet influence until 1989, Bucharest accepted the arrangement.
Ukraine took control with the fall of the communism and eventually in 2009 the International Court of Justice drew up the island's territorial limits, giving Romania almost 80% of the Black Sea continental shelf near the island, and Ukraine the rest.
Snake Island is not just of strategic use, because this part of the Black Sea is rich in hydrocarbon resources – so The Hague ruling means both countries possess reserves of petroleum and gas.
It may seem to be a small clump of rock with little obvious value, but its fate is a major element of Russia's war.