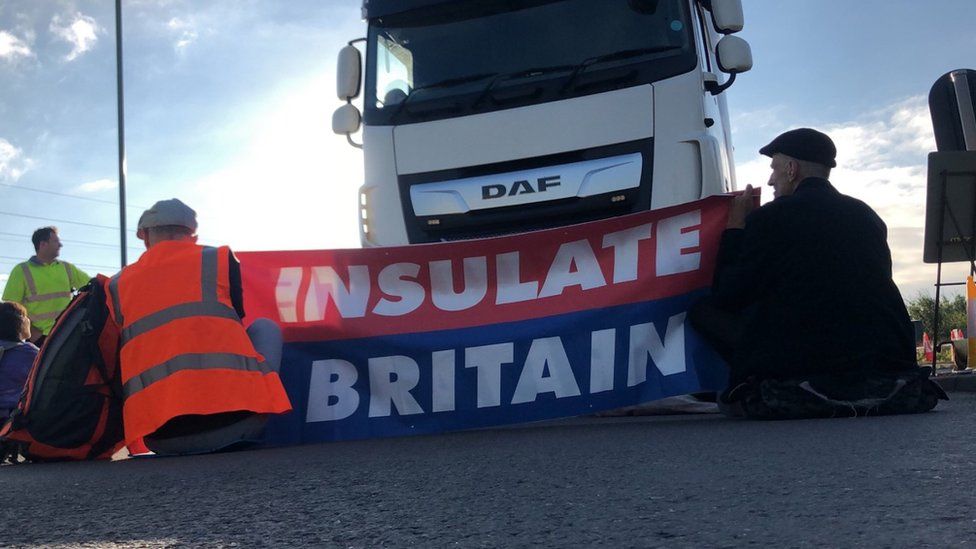 Police have made 71 arrests as climate change protesters caused fresh disruption on the M25, blocking roundabouts and the motorway itself.
Insulate Britain activists stopped traffic on three sections of the road for the second time in three days.
There were long delays at junctions 1a and 1b for Dartford, Kent; eight for Reigate and nine for Leatherhead, Surrey; and 23 for South Mimms, Herts.
Business Secretary Kwasi Kwarteng said the action was putting lives at risk.
He tweeted: "These actions are not only highly disruptive to those going to work and transporting vital goods, but are putting lives at risk on a busy motorway.
"Not to mention the resulting traffic delays will only add to vehicle emissions."
Demonstrators, who targeted the UK's busiest motorway as part of their campaign for government action on home insulation, sat on the road, while stranded motorists beeped their horns.
Videos posted on social media have shown angry drivers remonstrating with the activists.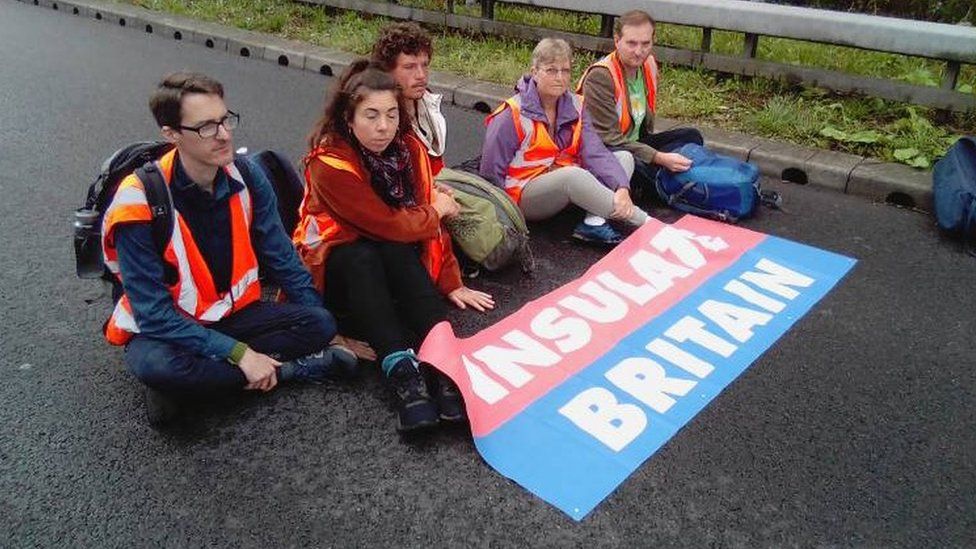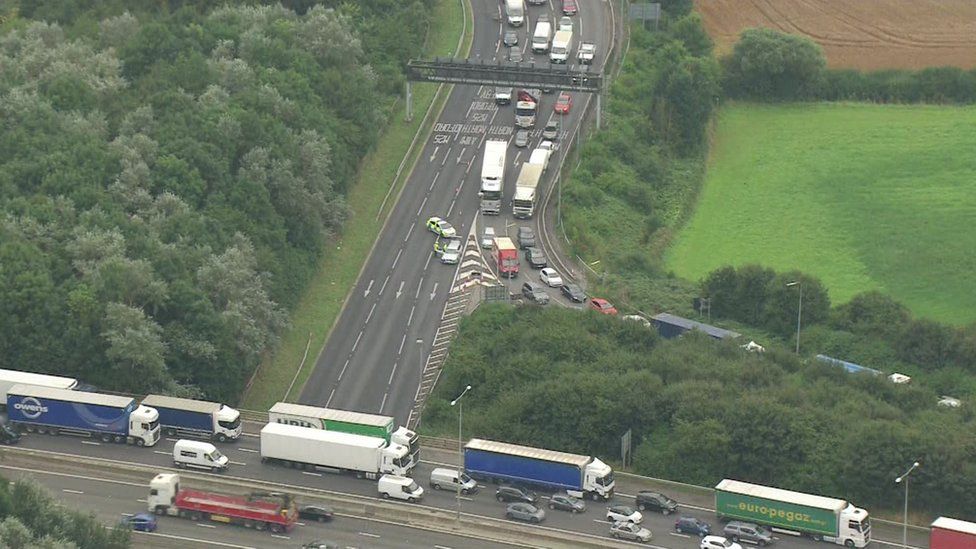 Surrey Police said the protest was reported just after 08:00 BST on Wednesday, where there were a number of protesters from Insulate Britain and Extinction Rebellion at junctions eight and 10.
It said it had arrested 32 people and was still at the scene but the activists had been cleared from both junctions by 10:15 BST.
The force added that it was also dealing with a four-vehicle collision on the anti-clockwise carriageway at junction nine and the road was closed while emergency services attended.
It was "too early in the investigation" to know if the crash was linked to the protests, the force said.
Herts Police said its officers were called at 08:00 BST to a protest near junction one of the A1M southbound / junction 23 of the M25 at South Mimms and had detained 18 people.
It said it was on the scene within minutes and attempted to engage with the group, following "clear, national standards" and balancing "the rights of people to protest with the rights of those affected".
"However, protesters ignored repeated requests from officers to move to a safer and less disruptive location, and alleged that they had glued themselves to the tarmac, making it clear that their aim was to cause as much disruption as possible," Supt Adam Willmot said.
He thanked the public for their "patience and understanding".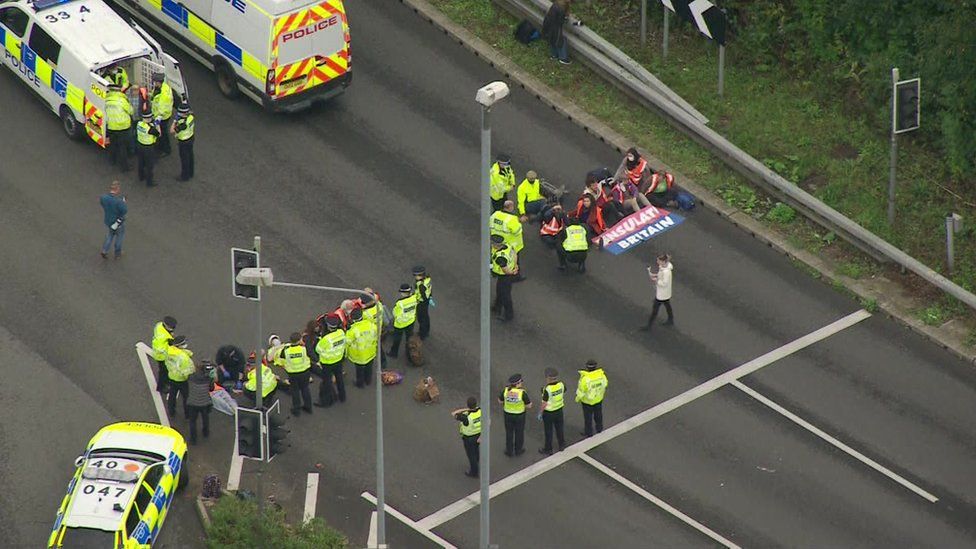 Kent Police said it was called at about 08:20 BST to a report that two groups of people were obstructing the road around junctions 1a and 1b – for the Dartford Tunnel and Princes Road.
It said it had arrested 21 people and some of the activists had reportedly glued their hands to the road surface.
The road has reopened but Highways England said there were still delays at the affected junctions.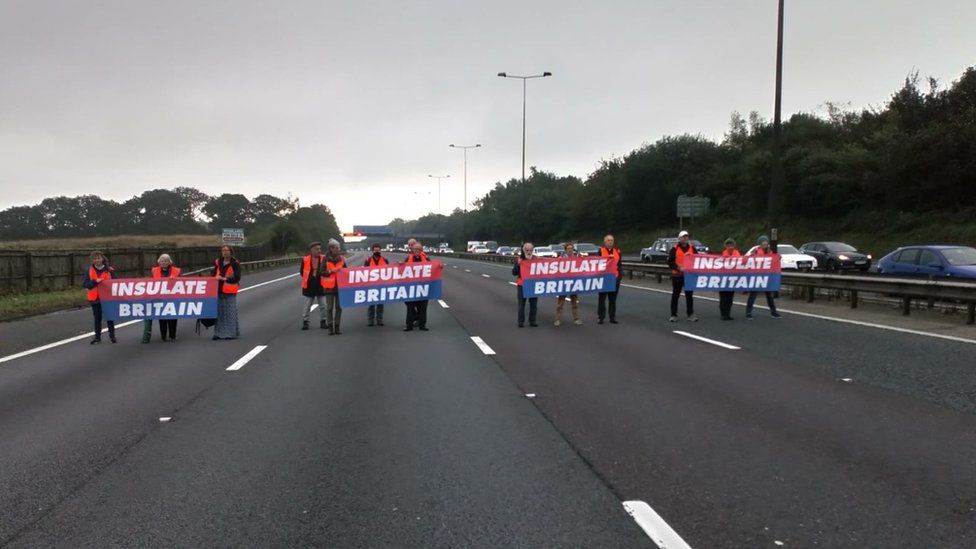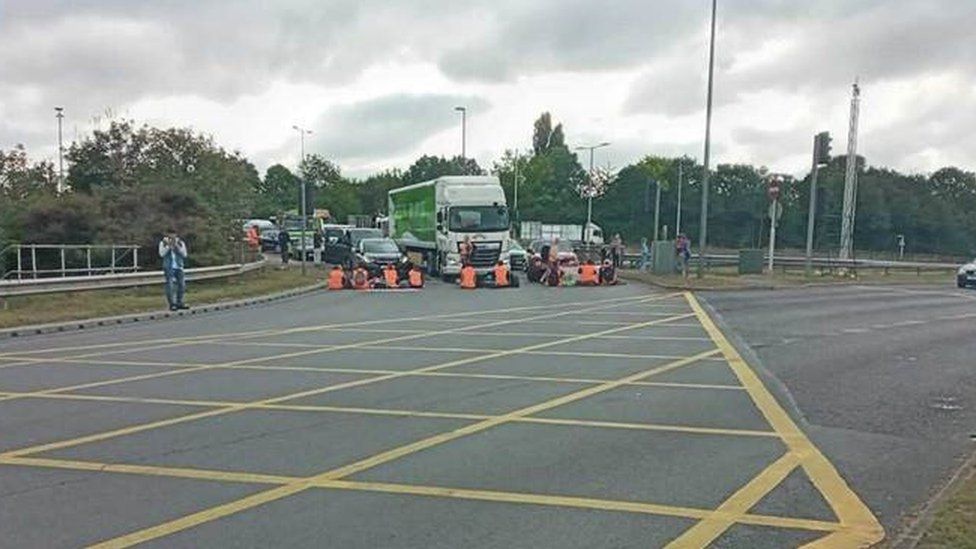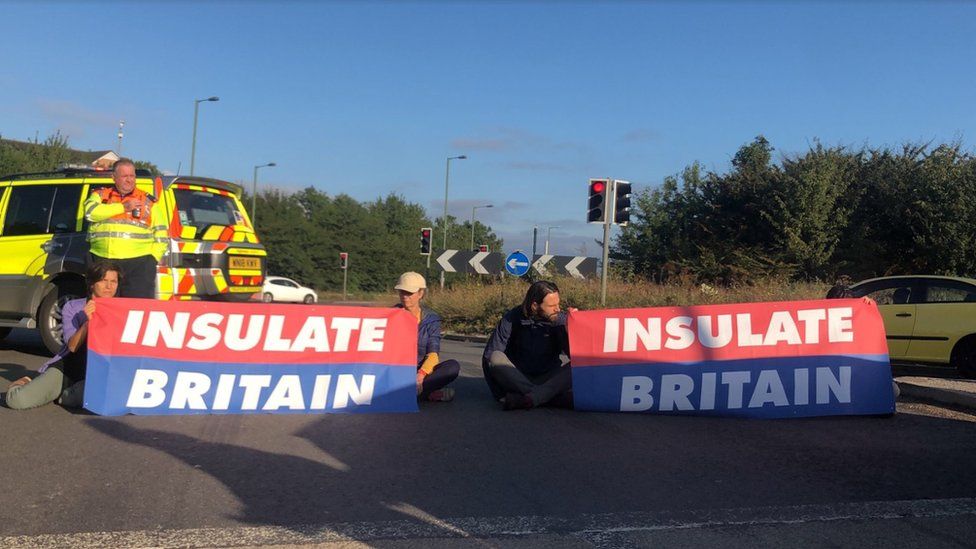 On Wednesday, the group said Insulate Britain "are back".
It said 89 of its members were taking part in the latest action.
In a tweet, it said: "You're angry. So are we… But sitting in the road makes Boris Johnson sit up and take notice, so we're staying, until 10 Downing Street #getonwiththejob."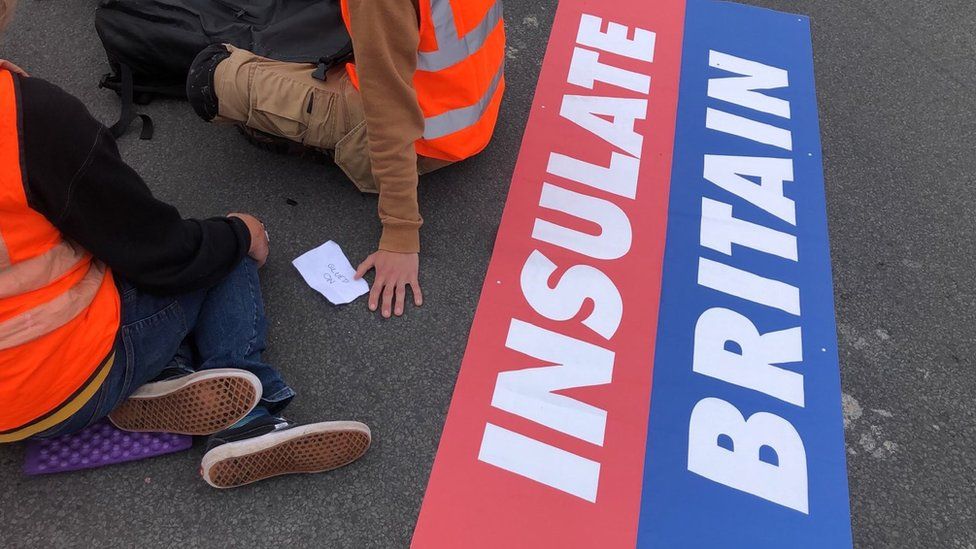 In a statement, it added: "Proper jobs for hundreds of thousands of people to start the first real step – to insulate all the homes of this country – which pound for pound gives us the biggest reduction in carbon emissions.
"It is a total no-brainer and yet this government refuses to get on with the job."
In response to Monday's protests, a government spokeswoman said: "People's day-to-day lives should not be disrupted, especially on busy motorways where lives are put at risk and resulting traffic delays will only add to vehicle emissions.
"We are investing £1.3bn this year alone to support people to install energy efficiency measures, and our upcoming Heat and Buildings Strategy will set out how we decarbonise the nation's homes in a way that is fair, practical and affordable."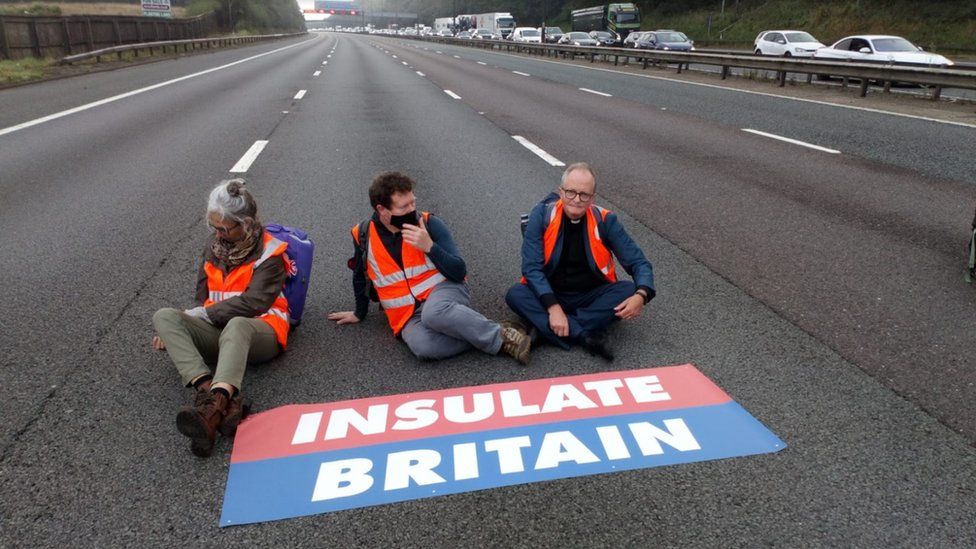 Edmund King from the AA said it was "somewhat ironic" that during the last blockade, a thermal insulation engineer was prevented from going to work after being stuck in the traffic queue.
"Whilst most people understand the need to take action on climate change, these motorway blockade tactics are just backfiring as they are alienating the working public stuck in this chaos and subsequently pumping out more emissions," he said.
"Essential deliveries, emergency services, people missing hospital and business appointments are all hit by these blockades."
People have been using social media to express their views on the protest.
Elliot King from Norfolk tweeted: "Sitting in the road is ridiculous, dangerous and pointless. Stopping traffic and causing more emissions? Genius."
Meanwhile, Edward Lamb thanked the protesters and said it was "sad that this is what it's come to, but protest works and I'm glad there are people brave enough to do it at this scale".


The BBC is not responsible for the content of external sites.