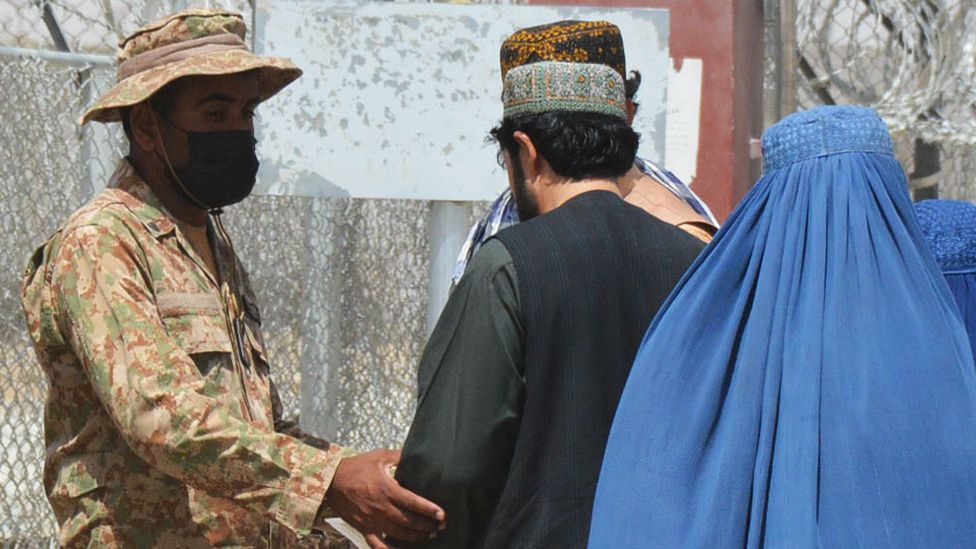 The Treasury must "urgently" confirm extra funding before councils can start making offers to house Afghan refugees, a document seen by the BBC suggests.
It estimates the cost of helping those coming to the UK over the next 10 years could be more than £2.5bn.
And it suggests a shortfall in the cash committed by Whitehall so far.
A government spokesperson said hundreds of Afghan nationals who had worked alongside the British in Afghanistan had already been welcomed to the UK.
But Labour's shadow home secretary, Nick Thomas-Symonds, said it was "deeply worrying" that the government was "failing to step up and play its role in providing national coordination, leadership and support".
The Treasury has been asked to comment on the contents of the leaked document.
Around 15,000 people eligible to come to the UK were evacuated in the final two weeks, including 8,000 Afghans who had worked alongside British forces.
Speaking at a press conference in Pakistan, he pledged £30m in aid to bordering countries taking in the majority of the refugees, to help provide shelter and sanitation.
And he promised the UK would be "shouldering our humanitarian responsibilities" to help.
The government is talking to councils about how many people could be resettled in their areas when they reach the UK, calling for a fair distribution across the country.
This call was echoed in a joint statement by council leaders in Greater Manchester, including its mayor, Labour's Andy Burnham, who said "every part of the country needs to take a share of the responsibility across all schemes, asylum and resettlement" – rather than areas with lower house prices accommodating "far higher numbers of those seeking sanctuary".
'Substantial but necessary'
The leaked document – Afghan Resettlement: Domestic Support Offer and Funding Requirements – was discussed by ministers on Wednesday.
It said just under £400m has been allocated so far to help resettle those who had fled the country, but an extra £557m could be needed over the next three years.
The government intends to provide funding to local authorities to accommodate Afghans, and the document says relocation costs were a "substantial – but necessary – offer of support".
Ministers met to discuss resettling plans on Friday before holding a meeting with local authority leaders, telling them to see "no offer of housing and support as too small".
But the BBC understands the councils were not given confirmation of how much funding they would receive.
Among the councils offering support, Walsall Council in the West Midlands has taken in 69 evacuees so far and says it hopes to house up to 120.
Mike Bird, the council leader, said it was a difficult task, housing families with children who needed school places.
"With children going back to school, and the pressure on school places, that in itself is something the government don't seem to be taking into account," he said.
"We've got the whole of the UK that should be considered. If only one [some] councils are coming forward… then the government have got to step in and make sure it does happen."
One refugee, Ahmed, whose real name is not being used, arrived in the UK from Kabul with his wife and six children in July.
He told the BBC Radio 4's Today programme this week about the challenges his family faced.
"We have been living in hotels for quite a while now in larger groups and it's becoming tougher and tougher, so it's time for us to move to a proper house," he said.
"That is the overarching concern we are having, because we can't have a bank account."
More funding 'urgent'
Schemes for people fleeing the country include the existing Afghan Relocations and Assistance Policy (ARAP) for Afghans who worked with the UK government and a new Afghan Citizens Resettlement Scheme (ACRS) for vulnerable people.
Funding models for the resettlement schemes are still being developed, but initial proposals suggested the figures would be based on 5,000 Afghans arriving under the ACRS scheme per year (capped at 20,000 people) at a cost of £715m, 5,000 arriving under the UK Resettlement Scheme each year at a cost of £1.65bn, and 7,000 arriving under the ARAP scheme in 2021-2 at a cost of £190m.
The document also suggested that while some refugees would require more support than others, local authorities should be given a set amount per person housed to make their funding easier to plan.
It recommended local authorities should be given £20,520 per person split over three years, plus more for education costs.
It also recommended extra healthcare funding of £3,200 per person and £15m funding per year to "international partners" to support resettlement in third countries.
These initial funding proposals suggest the costs would reach £187m in 2021/2 and £975m over the course of this spending review period – which lasts until 2024/5.
But the document said that with just under £400m of this funding already committed, there would be a shortfall of approximately £557m, so confirmation of further funding from the Treasury will be required "urgently".
Labour's Mr Thomas-Symonds accused ministers of being "disastrously complacent" throughout the crisis in Afghanistan.
He said: "Councils across the country want to do the right thing, so it's deeply worrying that the UK government is failing to step up and play its role in providing national coordination, leadership and support."
The shadow home secretary called on the prime minister to urgently set out details on how promised funding would be spent to "allow Afghan people who have been through hellish experiences rebuild their lives here".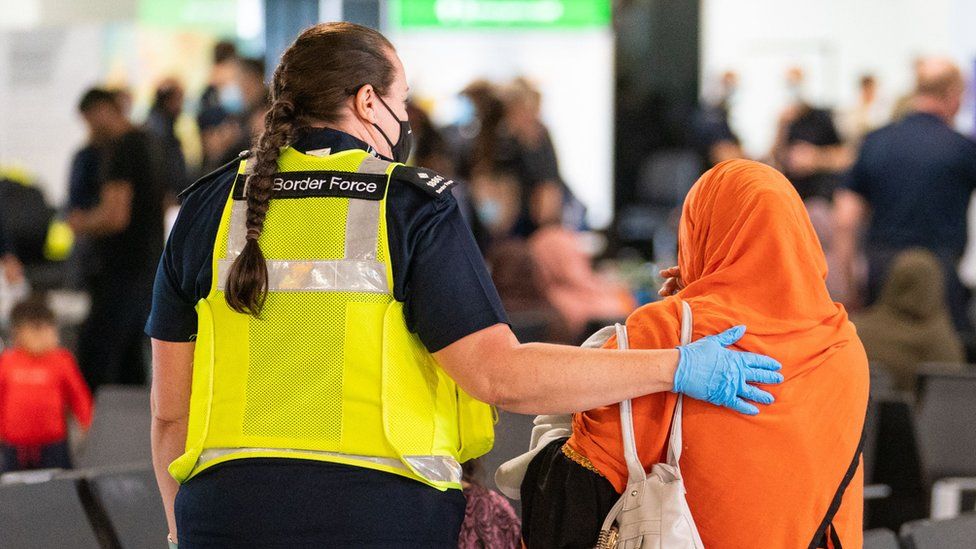 A spokesperson from the Ministry for Housing, Communities and Local Government said that the government was calling on all councils who had not yet offered, to come forward with offers of support.
"Thanks to the efforts of nearly a third of Britain's councils and vital delivery partners, hundreds of Afghan nationals who have worked alongside our Armed Forces and diplomats in Afghanistan, risking their lives supporting us, have already been warmly welcomed to the country," they said.
"Councils in England, Scotland and Wales will have access to a share of an additional £5m to help them provide the necessary housing and support to Afghans who have worked for this country in Afghanistan, but who now face threats of persecution or worse."