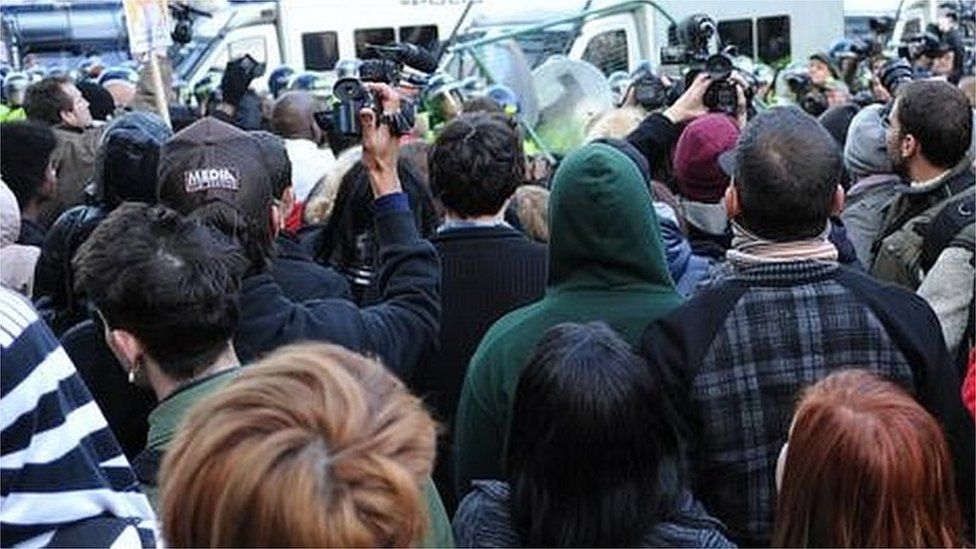 The government has defended its plan for noise limits on protests in England and Wales, saying it will affect only "very disruptive" gatherings.
MPs will debate the Police, Crime, Sentencing and Courts Bill – which would apply existing rules for marches to "static" gatherings – on Monday.
Home Office minister Victoria Atkins said she "absolutely" supported the "right to peaceful protest".
But Labour called the bill "poorly thought out" and "a mess".
The party will order its MPs to vote against the legislation, which also includes stronger police powers to break up "unauthorised encampments" and "longer" sentences for people convicted of serious crimes.
The bill's first detailed discussion in Parliament comes after four people were arrested during a vigil on London's Clapham Common on Saturday to mourn the killing of 33-year-old Sarah Everard.
The Metropolitan Police have been accused of being too aggressive in their handling of demonstrators, but the force said it had acted to protect people's safety and prevent possible coronavirus infections.
The controversy is likely to provoke extra interest when MPs begin their debate on the legislation, which the government says will allow police to "impose conditions such as start and finish times and maximum noise levels on static protests" of whatever size.
This is intended to prevent "intimidation or harassment" or "serious unease, alarm or distress" to bystanders, it adds.
'Real distinction'
Asked on BBC's Andrew Marr Show whether the bill would inhibit personal freedom, Ms Atkins replied: "I want to draw a very firm distinction between the peaceful vigil that [Saturday's] was and was intended to be and some of the very, very disruptive protests that we've seen in the last few years."
These had involved people blocking a hospital entrance and "gluing themselves to buildings and gates, and stopping members of the public going about their business", she added.
There was a "real distinction" between activities which "inhibit the lives of people" and peaceful protest, Ms Atkins said.
The bill would update legislation put in place in 1986, which the minister described as a "very, very different" time.
"We absolutely support the right to peaceful protest," she added.
"Of course make your protest, but can we try to do it in a way that's slightly more balanced than the law will currently allow?" Ms Atkins said.
'Living in fear'
For Labour, shadow justice secretary David Lammy said this was "no time to be rushing through poorly thought out measures to impose disproportionate controls on free expression and the right to protest".
He added that the government had "brought forward a bill that is seeking to divide the country".
Mr Lammy urged ministers to work with his party "to legislate to tackle violence against women which is forcing so many across the country to live in fear".
On Saturday, Met Police officer Wayne Couzens, 48, appeared at Westminster Magistrates' Court charged with Ms Everard's kidnap and murder. He was remanded in custody to appear again at the Old Bailey on 16 March.
Ms Everard disappeared when walking home to Brixton from Clapham in south London on 3 March.
Her body was found in an area of woodland in Ashford, Kent, Westminster Magistrates Court heard.